Austin's Couch Potatoes looking for volunteers to help sew masks from home
AUSTIN, Texas - Austin's Couch Potatoes has now stopped all furniture production and has shifted to creating masks and gowns for those in need during the coronavirus COVID-19 pandemic. It's now looking for volunteers to help them from home in the local Austin area.
RELATED: Austin furniture store makes masks for healthcare professionals in Texas
The company is offering an at-home sewing kit for those interested in helping. Volunteers must have a functional sewing machine with thread.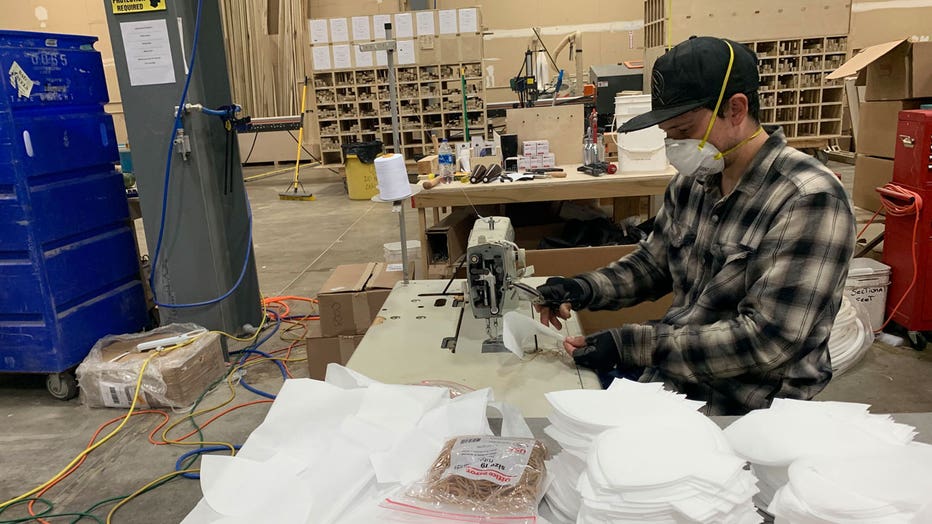 The goal is to create 1,500 masks and 6,000 gowns a day with a team of volunteers.
DOWNLOAD THE FOX 7 AUSTIN NEWS APP FOR YOUR MOBILE DEVICE
Austin's Couch Potatoes says it's quickly running out of supplies so if you can't volunteer it's set up a GoFundMe.
For those who sign up to help from their homes, Austin's Couch Potatoes says that a trained volunteer will drop off the sewing kit with materials. There'll be an instructional video digital link that will explain the sewing mask process.
CLICK HERE FOR THE LATEST INFO ON THE CORONAVIRUS OUTBREAK
The company says the goal is for each volunteer to sew 50 at home and Austin's Couch Potatoes will arrange pick-up and sanitation once the masks are made.
You can get more details from Austin's Couch Potatoes website as well by click on the links below:
 --
FOX 7 Austin is working to keep you up to date with coronavirus, with both local and national developments. Every weekday we're live at 12 p.m. with a special show reporting the latest news, prevention tips and treatment information.
You can watch live in your FOX 7 Austin app or on the FOX 7 Austin Facebook page.
You can also get the latest COVID-19 news from around the country at coronavirusnow.com.