Best friends with Down syndrome make epic zombie movie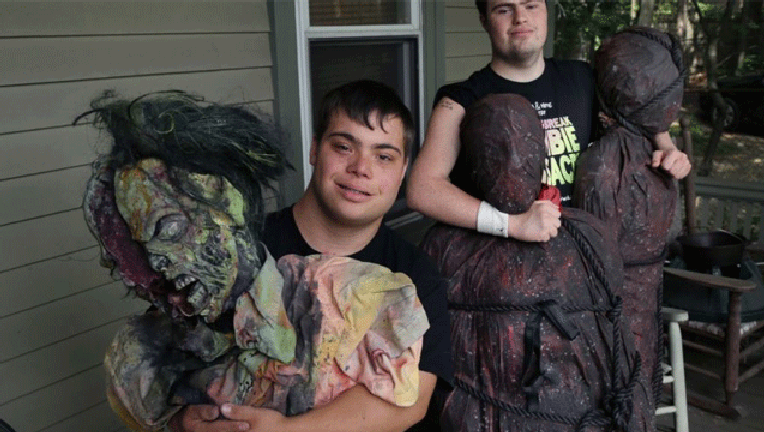 article
PROVIDENCE, R.I. (AP) — Two best friends from Rhode Island are living their dream of making an epic zombie movie and becoming celebrities.
Sam Suchmann and Mattie Zufelt, both 20, have Down syndrome.
"Down syndrome causes us to think slower than others, but we don't let that get in the way," Suchmann says. "Because we're naturally amazing."
Their movie, "Spring Break Zombie Massacre ," premiered in Providence last week, and they've been invited to several film festivals in North America. They also are scheduled to appear Thursday on Conan O'Brien's show.
The friends like movies and zombies and thought they could make a better zombie movie than some already out there. Zufelt hopes their movie proves why a book shouldn't be judged by its cover. He asks people to "look at the contents."
The two friends play brothers in the movie, two cool guys with bionic powers capable of saving humanity forever. The devil chases them through high school, college and spring break, trying to steal their powers and turning bullies into zombies and demons to help him in his quest.
They're often chugging soda, which they absolutely love.
One of their favorite scenes comes at the end of the movie when Paul "DJ Pauly D" DelVecchio, a hero to Zufelt, makes a cameo appearance at a boat party that's attacked by zombies. Zufelt, who dreams of being a DJ, jumps on the turntable in a final battle with the devil.
"My character, he's a straight badass," says Zufelt, whose DJ nickname is "Mattie Mixer."
DelVecchio, a Rhode Island native, says he was intrigued and taken back by how much they wanted him in the movie. He says it was such a "dope" project and he loved their story, so he signed on.
"You could tell they had a passion for this. This was something they really wanted to do," he says. "And it just goes to show you that anybody that can put their mind to it, can get something this big done. ... They worked so hard and it came out great."
Suchmann, of Providence, and Zufelt, of Bristol, grew close after they met while swimming in the Special Olympics during elementary school. They started working on the movie about five years ago. A Kickstarter campaign for the movie raised about $70,000 in late 2014.
Suchmann's older brother, Jesse, asked his high school friend, filmmaker Bobby Carnevale, for help. Carnevale directed the movie. He, along with editor Tim Forster and producer Suzy Beck, convinced others in the industry to volunteer their time and equipment. They filmed the 45-minute movie in Rhode Island over two weeks in August.
"Every day I learned something about life, about humanity, people, about what's important," Carnevale says. "It really was a life-changing experience for me and for everyone that came to meet Sam and Mattie."
Suchmann and Zufelt's friends acted in the movie and worked on it. Some have Down syndrome and others are on the autism spectrum. But Jesse Suchmann says, "This is not just proving people with Down syndrome can do this, too. ... If it was a bunch of professional filmmakers with no differing perspectives, we would've ended up with something way, way lamer. It would've never been this awesome."
The friends are already planning for a sequel and they've been filming a documentary about how the movie was made. Their families are working to start a nonprofit to help people with disabilities fulfill their creative dreams by connecting them with professionals in the industry.
Its name will be "Rock On. Go Wild," the friends' catchphrase.