Bill would allow temporary change in speed limits due to construction, weather on Texas highways
AUSTIN, Texas - A bill is headed to Governor Greg Abbott's desk that would allow for the group in charge of TxDOT to change the speed limit if conditions necessitate it.
HB 1885 written by Texas Rep. Terry Canalas (D-Edinburg) passed the Senate on Wednesday after clearing the House earlier this month.
The bill would allow the Texas Transportation Commission to establish a variable speed limit program.
That means the commission could temporarily lower the speed limit by no less than 10 miles per hour the usual speed limit to address inclement weather, congestion, road construction or any other condition that affects "the safe orderly movement of traffic."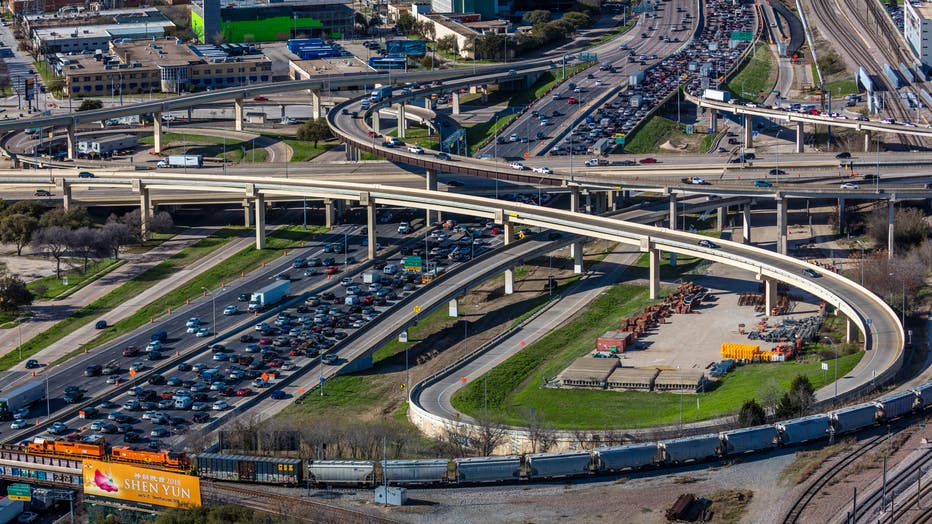 Dallas, Texas, Skyline, View of Dallas Freeways and Traffic as seen from Reunion Tower Observation Deck. (Photo by: Visions of America/Universal Images Group via Getty Images)
A sign must tell drivers about the change between 500 and 1000 feet from where the new speed limit begins.
The bill says that speed limit adjustments could only be put into place after an engineering and traffic investigation.
An investigation of the deadly pileup on I-35W in February 2021 suggested variable speed limits.
READ MORE: NTSB: 'Deficient' roadway maintenance, speeding drivers led to deadly winter weather pileup on I-35W
Six people died and dozens of others were injured after a series of crashes involving 135 vehicles on the southbound lanes of the interstate during icy weather on the morning of February 11, 2021.
NTSB investigators recommended Texas install variable speed limit signs.
Investigators found road sensors detected average speeds above 100 miles per hour in the left lane of the interstate. The speed limit there is 75.
Governor Abbott has not said if he plans to support or oppose HB 1885.
If the bill is signed, the law will go into place on September 1, 2023.