Bizarre but obvious clue leads officers to poaching suspect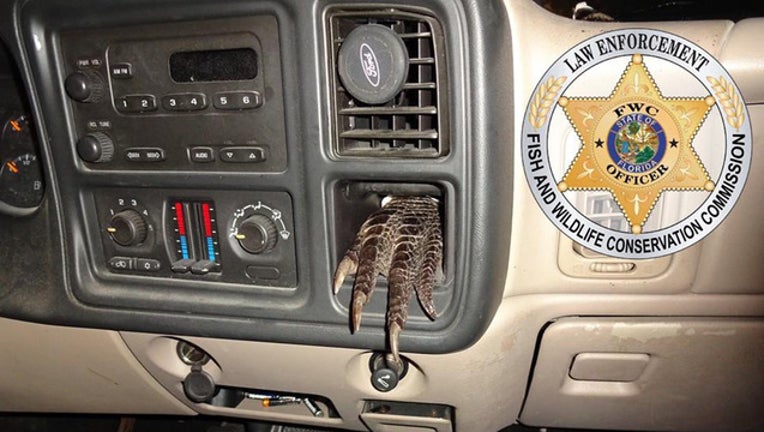 article
LOXAHATCHEE (FOX 13) - Can you spot something in this photo that doesn't belong?  A pair of Florida Fish & Wildlife officers did, and it ended up with a citation for the driver of the truck.
FWC says officers Luis Merizio and Casey Schroer had pulled over the pickup in the J. W. Corbett Wildlife Management Area -- that's east of Lake Okeechobee -- to check for the driver's day pass when they spotted alligator parts strewn throughout the cab of the truck, including a foot sticking out of the dashboard.
The driver claimed that the parts were from an alligator he had killed a few years ago, but the officers' noses told them otherwise.  When they pressed him about the smell, he allegedly admitted that he had killed the animal just a few days earlier -- without a permit.
The man, who was not identified, was cited for the violation.  He did not, apparently, explain the unusual dashboard decoration.
Meanwhile, FWC reminds Floridians that if they want to hunt alligators, they should do it legally: http://myfwc.com/license/limited-entry-hunts/general-info/alligator-hunt-permit/
You can also report poaching using FWC's Wildlife Alert Hotline: 888-404-FWCC (3922) or by text/email: Tip@MyFWC.com.