Brooklyn trucker claims $293 million Powerball jackpot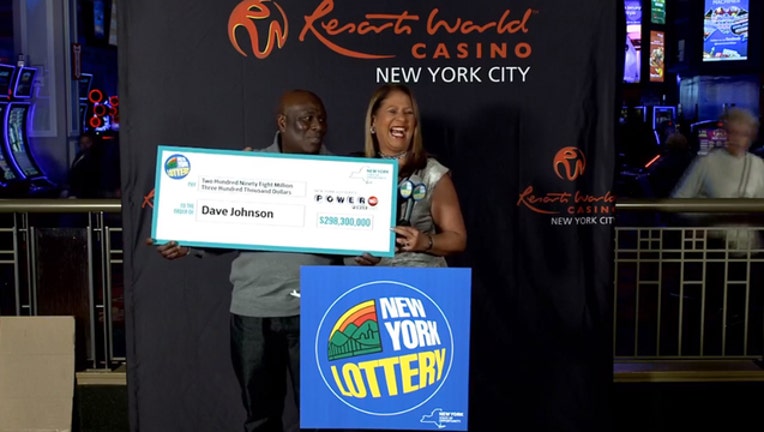 article
NEW YORK (FOX 5 NY) - The Brooklyn man who is the newest Powerball millionaire is also the third consecutive Powerball jackpot winner from New York.
The New York Lottery introduced David Johnson, of East New York, at an event at the Resorts World Casino in Queens on Friday. He had the winning ticket for the Dec. 26, 2018, drawing worth $298.3 million.
"I can't even eat. I start and can't finish my food," Johnson said. "I'm happy with joy inside."
The renown New York Lottery personality Yolanda Vega presented Johnson with a ceremonial check and asked him what he plans to do with the money.
"A nice house," the truck driver and immigrant from Jamaica said. Although he said he "quit right away."
So will he take his cash and move out of New York to find that house?
"Nah, nah, nah, nah. New York is my place," Johnson said. "I ain't going nowhere."
He elected to claim his winnings as a lump sum of about $180 million. After withholdings, Johnson will go home with about $114 million.
The winning numbers for the Dec. 26 drawing were 5, 25, 38, 52, 67 and Powerball 24.
Johnson was the third Powerball jackpot winner in New York in 2018, according to the New York Lottery. In August, the Sea and Sand Trust, based in New York, won a $245.6 million jackpot and Robert Bailey, of Harlem, won a $343.9 million jackpot in October.