Buying a home now 50% more expensive than renting, thanks to soaring mortgage rates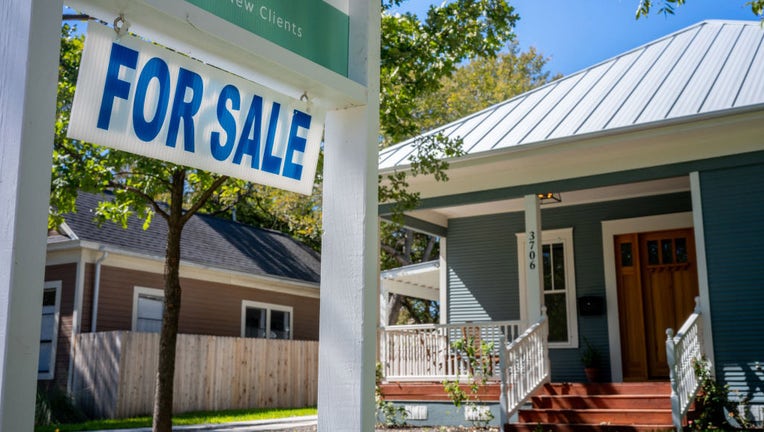 article
It's a lot cheaper to rent than to buy a house right now in the United States amid high home prices and rapidly rising mortgage rates.
U.S. homebuyers are currently facing monthly mortgage costs that are 52% higher than the average monthly apartment rent, according to a recent analysis by CBRE Research, a real estate and investment insight firm.
CBRE listed the average monthly cost of a new home purchase at $3,322.41 in the third quarter of 2023, compared with the average monthly cost of a new lease at $2,184.
Historically, monthly mortgage payments for a newly purchased home have been roughly equal to monthly apartment rent payments, CBRE said. But the average monthly mortgage payment for a newly purchased home, including taxes, has increased 70% since the end of 2019. 
Half of that increase came from higher mortgage rates, with the balance due to higher home prices, according to the research firm. 
While home prices have dipped by 9.7% since mid-2022, they haven't fallen enough to significantly offset the impact of higher mortgage rates, CBRE said. 
The average rate on the benchmark 30-year home loan rose to 7.63% in mid-October, compared to 6.94% a year ago. To put that into perspective, the mortgage payment on the median sales price of a U.S. home of $416,100 with 10% down would be about $2,737 per month, not including property taxes and other fees. 
Meanwhile, rent levels dropped in September for the first time in six months – with the national median rent price standing at $2,011, according to Rent.com's Rent Report for October.
The report said rent prices are up 0.40% year over year, which is equivalent to an $8 increase in median rent nationally.
"A combination of new inventory, lower-than-usual demand and price comparisons to record highs a year ago have worked together to keep rent growth below normal rates for most of this year," the report said. 
Regionally, the Midwest led price hikes with nearly 5% growth over this time last year, according to the report. However, rents in the region remained relatively affordable at $1,435. That's nearly $200 less than rents in the South and close to $1,000 less than rents in both the Northeast and West, the Rent Report said. 
Average long-term US mortgage rate hits highest level since 2000
The average rate on the benchmark 30-year home loan rose to 7.63% from 7.57% in mid-October, compared to 6.94% a year ago, according to mortgage buyer Freddie Mac. 
Borrowing costs on 15-year fixed-rate mortgages, popular with homeowners refinancing their home loan, also increased. The average rate rose to 6.92% from 6.89% in mid-October. A year ago, it averaged 6.23%, Freddie Mac said.
The result has created a significant affordability hurdle for many would-be homebuyers. 
As mortgage rates rise, they can add hundreds of dollars a month in costs for borrowers, limiting how much they can afford. Meanwhile, they also discourage homeowners who locked in far low rates two years ago from selling. 
RELATED: Housing inventory remains painfully low as shortage persists
The average rate on a 30-year mortgage is now more than double what it was two years ago, when it was just 3.09%.
The weekly average rate on a 30-year mortgage has remained above 7% since mid-August and is now at the highest level since Dec. 1, 2000, when it averaged 7.65%.
Mortgage rates have been climbing along with the 10-year Treasury yield, which lenders use as a guide to pricing loans. Investors' expectations for future inflation, global demand for U.S. Treasurys and what the Fed does with interest rates can influence rates on home loans.
The central bank has already pulled its main interest rate to the highest level since 2001 in hopes of extinguishing high inflation, and has indicated it may cut rates by less next year than earlier expected. The threat of higher rates for longer pushed Treasury yields to their highest levels in more than a decade.
Adult kids are moving in with parents to save
With mortgage rates nearing 8%, affordability challenges have forced some adults to move back in with their parents while they save for a home.
"While homebuyers have long received financial assistance from family members to help them afford a home purchase – especially first-time homebuyers who may not have already built up equity – we're seeing more and more prospective buyers take this a step further," according to Clare Trapasso, Realtor.com's executive news editor.
A recent survey from Realtor.com and Censuswide revealed that of those planning to buy a home within the next 12 months, half (51%) said they were potentially looking to their parents to help them prepare for buying a home.
Nearly one-third (29%) said they've already moved in with their parents to help save money in preparation for buying a home, and another quarter (22%) said they would consider doing so.
RELATED: Over 80% of homebuyers factor extreme weather, climate risk into decision, survey finds
This story was reported from Cincinnati. The Associated Press contributed.