Cannabis is a big hit for Christmas gift-giving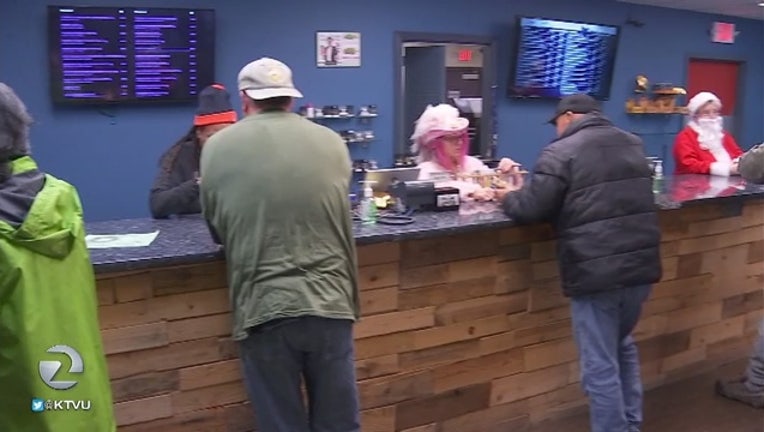 article
OAKLAND, Calif. (KTVU) - 73-year-old Judy gave the gift of pot to herself, unafraid to vape and smoke inside the lounge at the Magnolia dispensary in Oakland.
She said she has been smoking marijuana since the 1960s, and thought the perfect way to relax on Christmas Eve was to buy some marijuana.
"I just learned about this place a year ago," Judy said. "I'm doing great now."
Just like her, dozens of customers have been lining up and packing into Bay Area cannabis dispensaries to buy holiday gifts including gummies, chocolates, cartridges and flowers.
"From the moment we were open at 9 o'clock we had a line," Magnolia assistant general manager Kysa Butler said. "We've been knocking the lines out quickly but they've been steady, too."
Pot presents are pretty popular as many visited for the first time to get gifts. Christopher and his dog Frankie were picking up some edibles and said they make the perfect stocking stuffers.
"It's definitely unique," Christopher said. "It just feels like you're having a snack and then later you want more snacks!"
Customers must be 21-years-old in order to enter a dispensary and purchase one of the cannabis products.
Many cannabis businesses report having five times as many customers or more during the days leading up to Christmas.
"People start stocking up," Butler said. "Sometimes you need a little stress reliever from Christmas shopping or sometimes you need a little something when you meet your family."
Magnolia in Oakland is one of the few dispensaries where you can vape inside and a nurse is always on site during business hours.
Bay Area dispensaries are closed Christmas Day but reopen on December 26.