Capital Metro to launch double-decker bus on Halloween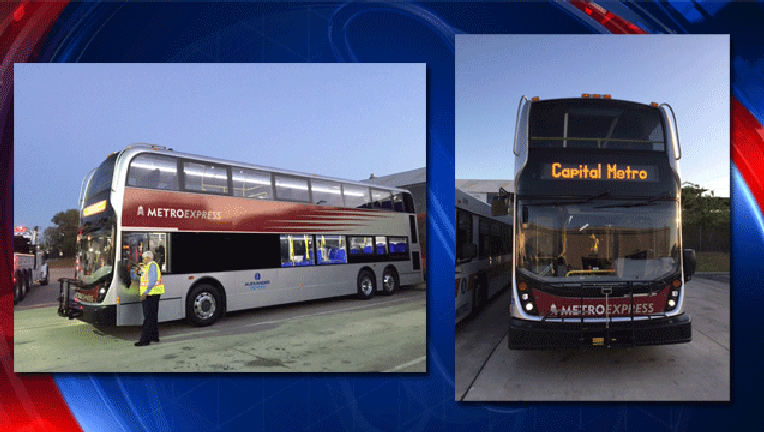 article
AUSTIN, Texas (Oct. 27, 2016) - Capital Metro will test a double-decker bus as a part of its regular MetroExpress service beginning Monday, Oct. 31 through Friday, Nov 11. The bus, built by British bus manufacturing company Alexander Dennis, is already on the road in other U.S. cities, including Seattle and Las Vegas.
This two-week pilot program will help Capital Metro's leadership determine if double-decker buses are a feasible option on heavy commuter corridors such as IH-35, MoPac and U.S. 183.
The public will get its first look at the sleek, high-capacity vehicle as it begins its inaugural trek along Route 935, from the Tech Ridge Park & Ride to Riverside Drive. The double-decker bus will serve as an additional vehicle on the route, operating approximately five minutes ahead of the regular Route 935 bus, the Tech Ridge Express. No fare will be charged on the double-decker during the pilot period.
The new bus seats 89 riders and can accommodate up to 100 total. Capital Metro's typical buses seat 36 riders and can carry 15 more standing passengers. The 42-foot double decker bus is 13 feet 6 inches tall, as compared to 9 feet 6 inches for Local buses and 11 feet 5 inches for MetroExpress buses.
The double-decker is ADA compliant, is completely covered and has a bicycle rack. Riders will get to enjoy panoramic views, footrests and soft reclining seats on its upper deck.
Capital Metro's Community Involvement team will conduct surveys during the demonstration period to gauge how much support there might be for having a double-decker bus in service on a full-time basis.
Following the test period, input from riders, bus operators and maintenance staff will be compiled and reviewed. Staff will then report to the Capital Metro board of directors with findings and recommendations.