Convicted hitman objects to being execution 'guinea pig' after lethal injection failure
An Alabama death row inmate who beat a minister's wife to death for a $1,000 payout and survived lethal injection last year is fighting the state's decision to kill him with nitrogen hypoxia, a new method never before used to put a prisoner to death.
Kenneth Eugene Smith, 58, was sentenced to death in 2022 for the 1988 contract killing of grandmother Elizabeth Dorlene Sennett, whom he and accomplice John Forrest Parker stabbed eight times.
Charles Sennett, who bankrolled the murder of his 45-year-old wife, killed himself a week after her death, per court documents. Parker was put to death by lethal injection in 2010, according to the Clark County Prosecutor's Office. 
Smith's execution was set for Nov. 17, 2022. He appealed the initial execution, arguing at the time that death via nitrogen hypoxia — inhalation of pure nitrogen to fatally replace oxygen in the bloodstream — would be less painful in light of previous inmates' botched executions.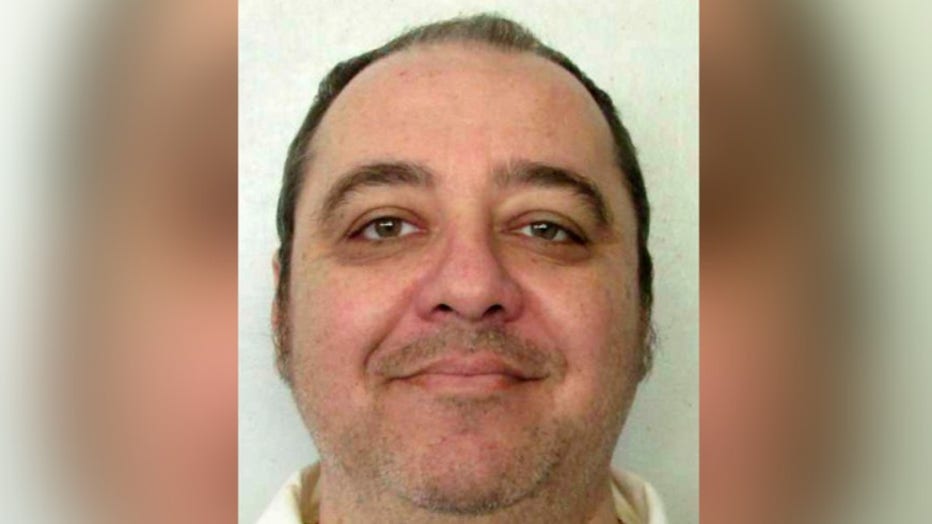 Kenneth Eugene Smith, 58, is slated to be the first inmate to die by nitrogen hypoxia, but his attorneys argue he should not be a "test subject" of the untested, "experimental" method. (Alabama Department of Corrections)
ALABAMA TO BE FIRST STATE TO EXECUTE PRISONER USING PURE NITROGEN, SETTING OFF DEBATE ON DEATH PENALTY METHODS
Smith spent four hours strapped to a gurney Nov. 17, 2022, while executioners with "unknown medical credentials" jabbed the inmate in his arms, hands and collarbone before calling off the procedure, his attorneys wrote in their subsequent court filings. 
Alabama has acknowledged problems with IV insertion in at least four executions since 2018, three of which needed to be halted and never were reattempted. The ADOC approved nitrogen hypoxia as a method of execution in 2018, following Oklahoma and Mississippi.
Deborah Denno, a death penalty expert at Fordham Law School, told Fox News Digital she would "rather have someone hit me on the back of the head with a hammer than die by lethal injection."
Denno noted a number of "botched" executions that have occurred around the country over the years due to executioner incompetence, failure to follow protocols, or defects in the protocols themselves.
SOUTH CAROLINA OBTAINS LETHAL INJECTION DRUGS TO CARRY OUT DEATH PENALTY AGAIN AFTER DECADE-LONG HIATUS
John Q. Hamm, the commissioner for the ADOC, confirmed last month that Smith would be executed via nitrogen hypoxia; in response, the 11th Circuit Court permanently barred the state from executing via lethal injection should the new method fail. 
Smith and his attorneys then pivoted from their original stance, filing an appeal against his second execution and arguing that executing him using this "experimental method" would reduce him to a "test subject."
Death by nitrogen hypoxia has been employed in unregulated assisted suicides abroad but has never been tested in a clinical setting. The American Veterinary Medical Association's guidelines allow inert gas hypoxia in the euthanasia of chickens, turkeys and pigs, but it is not recommended in other mammals such as rats, The Associated Press reported. 
The phenomenon has also been observed in the field of aviation, where pilots can pass out or die at altitudes over 10,000 feet, per the Federal Aviation Administration. 
Executing Smith by any method, his attorneys argued in their Sept. 22 filing, would violate his Eighth Amendment rights "given that the ADOC already caused him severe physical and psychological pain when they attempted, and failed, to execute him." 
Per an earlier filing cited in the most recent court record, "Mr. Smith's horrifying experience was not a singular event, it was just the latest incident in an uninterrupted pattern of executions by [ADOC] that involved protracted, severely painful and grisly efforts to establish the intravenous lines necessary to carry the lethal injection drugs into his body."
TRUMP COMMENT ABOUT PUNISHING GEN. MILLEY WITH 'DEATH PENALTY' CAUSES MAJOR OUTCRY FROM GOP RIVALS
Moreover, Smith's attorneys asked why their client was chosen to test the method first when at least eight death row inmates specifically chose to be executed via the new method in 2018. 
But John Palombi, who represented the eight inmates also living on Alabama's William C. Holman Correctional Facility's death row, told Fox News Digital his clients did not "waive any right to challenge that method of execution when [the state] adopted a protocol." 
Based on the state's protocol as it stands – heavily redacted and distributed in August – he said he would fight their sentencing in court. 
Denno said the document was "the vaguest protocol [she'd] ever seen, ever." 
"You would want everything specified about exactly what is going to take place. His attorneys have nothing to work with," she said Monday. "It gets very redacted when you get down to the execution itself. They mention all these cylinders, but they have no idea what they're talking about. ... How is it getting there? How is it being transported? How is it being put into cylinders? Is someone coming in and filling cylinders? This is critical information that we would need to know about any execution method."
Denno said it is unclear whether spiritual advisers or observers watching the execution would be safe from the colorless, odorless nitrogen. The specifications of the mask that would deliver the gas were redacted or not included in the protocol document, and it is unclear if the death chamber at Holman Correctional Facility is airtight.
"You have much more detail in states that electrocute people. For example, you have details on what kind of sponge they're using," she said. "What's going to be done with their hands? You don't know that with nitrogen. How do we know the inmate can't take the mask off?" 
In one of Smith's earlier appeals, Supreme Court justices Samuel Alito and Clarence Thomas argued in their dissension that hypoxia should not be considered a viable alternative to lethal injection because it has never been used and cannot be humanely tested, per court filings.
Denno said it would be more cost-effective and humane for Alabama to replace lethal injection with death by firing squad, but "states aren't using that for PR reasons." 
Additionally, she noted, it would be far easier to find capable volunteers to carry out that sort of execution.
"I've had EMTs email me saying '[inserting an IV] is the easiest thing in the world. I don't understand how they can't do this'... [But] when John Albert Taylor [chose to die by firing squad] in 1996, volunteers from all over the world came forward. ... They had no problem finding people."
CLICK HERE TO GET THE FOX NEWS APP
But the 11th Circuit Court ruled that neither execution by firing squad nor hanging were "feasible or readily implementable alternatives to ... lethal injection" in 1983. It is unclear whether an inmate could advocate for that method today. Mississippi, Oklahoma, Utah and South Carolina and, most recently, Idaho, allow the method as an alternative to death by lethal injection.
The Alabama Department of Corrections could not be reached for comment at press time.
Read more of this story from FOX News.