Could "Colton's Law" help abused children survive?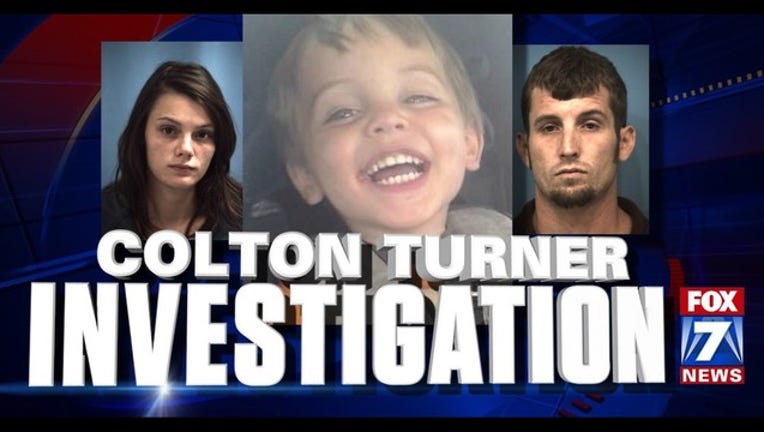 article
AUSTIN, Texas - Raquel Helfrich says although she's spent much of the past decade trying to protect her niece from an unstable home life she isn't surprised that she's now behind bars. "My problem with all of this is that I do know Meagan's whole story but this was always in her to do," Helfrich tells FOX 7's Elizabeth Saab in an exclusive interview. Court records show that Helfrich was the catalyst for a CPS investigation into Meagan Work's parents.
And Helfrich says a young Colton Turner became a mainstay in hers and her daughter's lives from the time that he was born. "Whenever we did get him what I saw was a very happy child looking back on that it kind of fooled us," she says through her tears. And she adds that it's hard to accept the amount of abuse he may have endured, especially knowing how comfortable he felt in her home. "I think the reason he was so happy and full of life with us…that was where he could play and feel safe and loved."
Helfrich says the last time she saw Colton was in April. She says Meagan started making excuses for why she couldn't bring the child over. But Helfrich says she didn't think anything was wrong. Then in May her daughter showed her and her husband Keith disturbing images of a battered and bruised Colton. Without Meagan knowing, Helfrich says she immediately took matters into her own hands - mounting a desperate plea to save the child from his own mother. "I was told unless you had a location the jurisdictional laws don't allow for you to randomly go to any police departments in Texas." And for days they combed the streets looking for Work but she was nowhere to be found. "She had an enormous ability to convince people of what she wanted. People helped her hide."
The couple consulted an attorney about getting custody but was told without Meagan or Colton's location, removing the child would be nearly impossible. "We immediately went to a lawyer because of the bad experiences we had with CPS, we felt like that was the quickest way to protect him."
They also started calling CPS. Helfrich says because of her history calling CPS on Meagan's parents, she gave the phone to Keith who made the initial report. "He gave them the whole report. He told them she was dangerous and the baby was being hurt. He gave graphic details about the photos. They didn't want the photos." She said she repeatedly continued calling CPS to no avail. "I am very angry that all of the time that I felt like Colton was being abused and it was only a matter of time until something horrific happened - I was led to believe that they were actively looking for her." When she finally heard from them, she thought there was a breakthrough. Only to be let down when she learned they reached out to her because they started to receive calls from other people about Meagan too. "I knew this was coming. It was like racing a clock for several months but I thought CPS was on it because they were calling me back."
She believes because it was hard to nail down Meagan's exact location that is perhaps why little Colton's case ultimately fell through the cracks. "When you try to do the all the right things you shouldn't get all of these wrong results."
DFPS is still investigating CPS' history with the Colton Turner case. That report isn't due for a weeks. But Helfrich says it's hard to believe that more action wasn't taken given Meagan's own history within the system, "I did not have a system that worked with me ever." She says she hasn't spoken to Meagan since the arrest, and she has no plan to. Helfrich is also quick to caution that no one's past should make them immune to being held accountable for their future. Instead, Helfrich says she's determined to keep to keep the focus on the little boy she loved so much."I want justice for Colton. He deserves that. And he does not deserve for the person who did this to be victimized because of their past and make that an excuse for why he is dead."
Helfrich is channeling her anger and frustration into change. She is joining forces with longtime family friend Liz St.Clair to drum up support for Colton's law. St. Clair tells FOX 7 they are in the early stages of drafting the legislation, but their missions is clear: "If a case falls under this particular situation where the parents are homeless and cps can't find them it immediately gets bumped up to state law enforcement so DFPS can go in and find them wherever they are." She goes on to say, then she would hope it got sent back to the local CPS so the system could kick in as it's meant to.
Just reading public records, it is clear that Raquel Helfrich and her family have endured great pain. But she refuses to allow that to define her. And is resolute in her crusade to continue making noise – not only to preserve her great nephew's memory but also to make sure this never happens again. "I feel like he deserves more than that. I feel like they need to know this has a greater purpose." Helfrich and St. Clair have been in contact with State Representatives Tony Dale and Larry Gonzales. St. Clair tells us, she and Helfrich hope to meet with the lawmakers in the coming weeks.