Court documents detail immigrant-smuggling case in San Antonio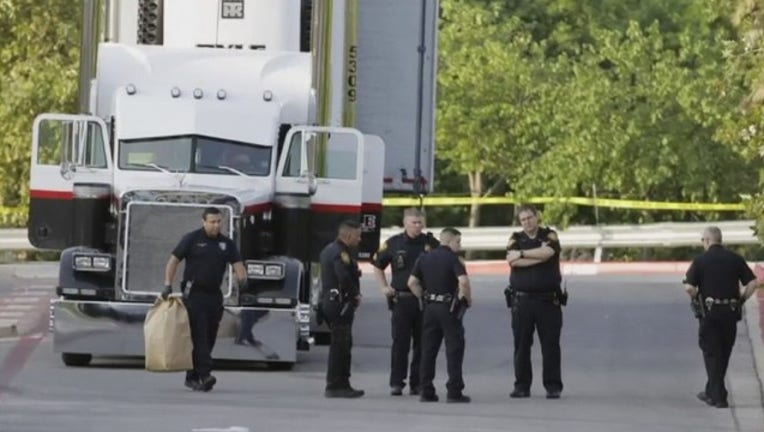 article
James Matthew Bradley Jr, 60, has been charged with one count of transporting illegal aliens after ten undocumented immigrants have died.
Court documents say officers were called out to a Wal-Mart in San Antonio on July 23. When police arrived they discovered eight people dead and 30-40 others were injured, all of them were undocumented immigrants, police say. Two more later died at the hospital. 
READ: Death toll reaches 10 in immigrant-smuggling case in Texas
Bradley claimed he did not know there were people in the back of the trailer and was surprised when he got out of the car to relieve himself and heard banging and shaking in the trailer. He said he was traveling from Iowa to Brownsville, Texas to sell the truck. 
Upon discovery of the people, Bradley told police he realized at least one was dead. He said "he knew the trailer refrigeration system didn't work and that the four vent holes probably were clogged up," according to court documents. He said he tried calling his wife, but did not call 911. 
READ: Mexicans, Guatemalans were in packed truck outside San Antonio Walmart, officials say; 9 dead
Bradley was taken into custody. If convicted, he could face life imprisonment or death, a $250,000 fine and three years of supervised release, according to the Department of Justice. 
"To maximize their criminal profits, these human smugglers crammed more than 100 people into a tractor
trailer in the stifling Texas summer heat resulting in ten dead and 29 others hospitalized," Acting ICE
Director Thomas Homan said. "Human smugglers have repeatedly demonstrated that they have absolutely no regard for human life. Our ICE agents and officers, working closely with our law enforcement partners, will pursue
these smugglers and bring them to justice."
Bradley has his first court appearance at 11 a.m. on Monday.