APD Criminal Interdiction Unit stops drug trafficking, human smuggling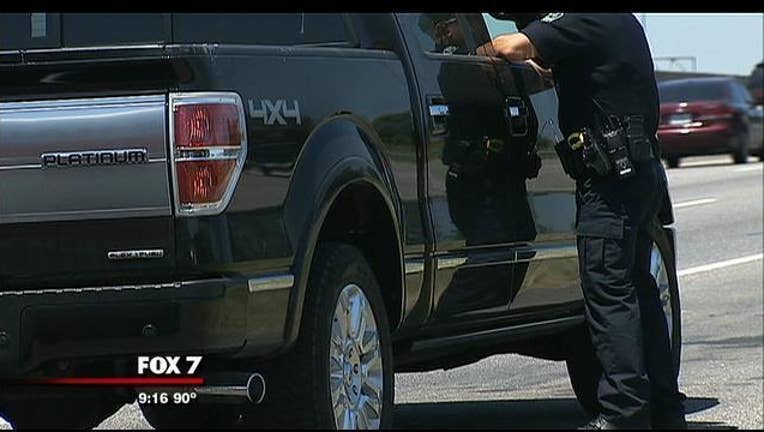 article
AUSTIN, Texas - Fayette County Sheriff's Office deputies as we've shown you is known for taking down drug traffickers on a big scale. Austin police are doing the same thing… we just haven't been able to show you until now.
FOX 7 rode along with an officer belonging to APD's Criminal Interdiction Unit. The eight members of the unit are specially trained to spot drug trafficking, human smuggling and other criminal activities along the major highways around Austin.
"It's a billion-dollar industry. These guys are geniuses," said the officer.
On this day, the officer's focus is I-35.
"One of the things I look for is significant changes in driving behavior. Those changes can be anything from unnecessary lane changes to slowing down at the sight of police officers," he said.
This black truck catches his eye. There is no front license plate. He pulls the driver over to chat.
"What tells me something is going on is usually the interview. Once people get pulled over, we start talking about trips, travel, that's when I start identifying if they have any anomalies," he said.
He doesn't find anything suspicious.
"It's just going to be a warning man, so let me get you back over here," he said.
This is a necessary part of the job. Officers perform a lot of traffic stops for the slight chance they may intercept a criminal organization.
As the officer we rode with learned it can be any vehicle, any driver at any time.
"About two months ago I stopped an elderly gentleman, about 80-years-old," he said. "He looked real fragile. At first contact he told me he has cancer and he's sick, but in the interview he starts being deceptive. He starts showing signs of nervousness, anxiety and low and behold I later find out he was smuggling the night before, about 16 kilos into Dallas."
APD created an interdiction team in 2010, but it was more of a reactive, support unit for the officers patrolling the highways. Nine months ago the unit transformed into a pro-active role with officers seeking out criminal activity. Sgt. Kelly davenport oversees it.
"It's 24/7 so there's never a time of day that drugs are not coming through," said Davenport.
Davenport showed us some of the recent busts. The most common drugs found are meth and cocaine.
"They just sort of re-constructed the air-conditioning and had it underneath the dash," she said pointing to a photo. "That was 7.5 kilos."
"Inside the toolbox were 5 kilos of meth," Davenport explained about another photo.
Drugs aren't all these officers find.
"It's human smuggling. There are a lot of people in danger that are being smuggled in dangerous ways that we've come across, terrorists may have found ways to smuggle guns down south. We've caught forgery suspects that are stealing checks from all over the state and trying to cash them, so it's anything illegal that is in transit," Davenport said.
They never know what the next stop may bring.
"I-35 is a main artery, a thoroughfare all the way up to New York, so there's no telling what we're gonna find," said Davenport.