Dallas renowned chef thanks hospital staff after liver transplant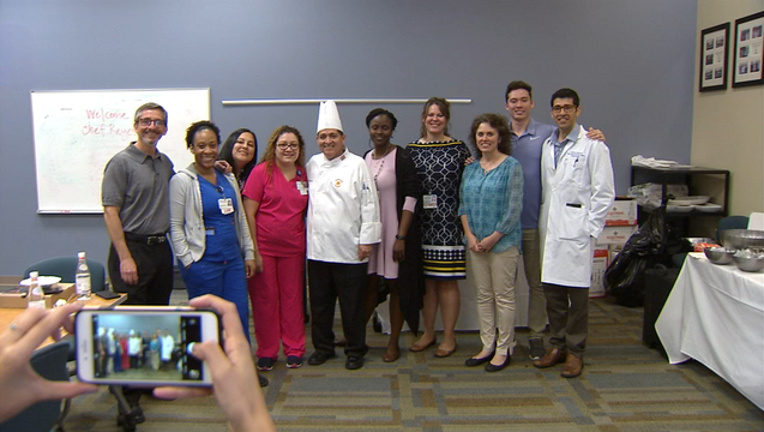 article
A renowned chef who has a new lease on life after receiving a liver transplant found a way to thank the doctors and nurses who helped him.
Chef Mario Reyes waited two years for a liver transplant as he got sicker and sicker.
As Corporate Executive Chef for Nestle North America, it was difficult for him to be the one being fed by nurses. On Friday, three months after receiving a liver transplant, he was able to return the favor.
"I want to say thank you, thank you so much," he said.
Reyes is one of the fortunate patients. He managed to survive two years waiting for a liver transplant.
Dr. Vichin Puri was Reyes' surgeon. He says there is a huge need for more people willing to check organ donor on their driver's license application. He says Reyes is an example of why it is so important.
"It's night and day. He was sick, weak, tired. All the symptoms that go along with liver disease," Puri said. "He's a productive member of society now."
The doctors, nurses and staff of the Liver Institute Methodist Dallas loved seeing the changed man.
"You have to wait until you get sicker. The sicker you are, the closer you are to getting a transplant," explained Terri Franklin, the transplant coordinator. "The organs are allocated based on how sick you are."
"A lot of times, we don't always get the reward of seeing what happens with all the work you do," explained Dr. Jeffrey Weinstein with the liver institute. "Today is a great example of what you've accomplished."
"First thing I was told was Mario has a new birthday," Reyes said. "January 10 is his birthday. That's when I got my new liver. I said, 'Thank you, God. And thank you Methodist Hospital for what they've done for me.'"