Drone delays Ravens-Bengals game twice during 'Thursday Night Football' matchup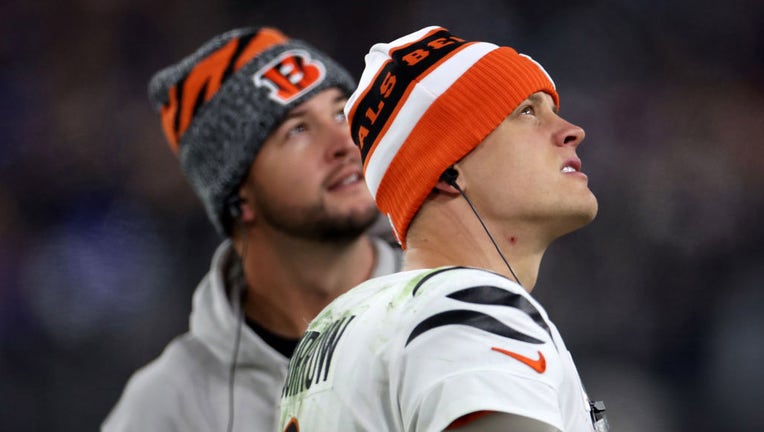 article
BALTIMORE - "Thursday Night Football" between the Baltimore Ravens and Cincinnati Bengals was delayed twice. And not because of what occurred on the field, but rather, what was floating above it. 
During the Ravens' 34-20 win over the Bengals, the game was first delayed in the second quarter when an unauthorized drone was spotted hovering over the M&T Bank Stadium, forcing a stoppage of play.
The apparent drone was shown on the Prime Video broadcast, flashing red and green lights, before cutting to a commercial break.
Then, the drone made another brief appearance later in the game during the fourth quarter – prompting another administrative stoppage as players and coaches looked toward the sky.
"We saw them up there, drones. That's a first," Ravens coach John Harbaugh said. "I thought I'd seen it all with the Super Bowl, the lights going out at the Super Bowl. Now we got drones flying around."
The lights famously went out during Baltimore's victory over San Francisco in the Super Bowl in New Orleans after the 2012 season.
The AFC North-leading Ravens (8-3) completed a head-to-head sweep of Cincinnati (5-5) and moved to 2 1/2 games ahead of the last-place Bengals — but both teams came out of the game with significant health concerns.
Baltimore quarterback Lamar Jackson hurt an ankle, but lost one of his top targets –  tight end Mark Andrews – to a more severe ankle injury. Meanwhile, the Bengals lost quarterback Joe Burrow to a wrist injury.
Harbaugh announced after the game that Andrews' injury appeared to be season-ending. Cincinnati coach Zac Taylor said Burrow's injury looked like a sprain, and it's not clear what his availability is going forward.
This story was reported from Cincinnati. The Associated Press contributed.