Family continues to fight for justice after teen was hit by drunk driver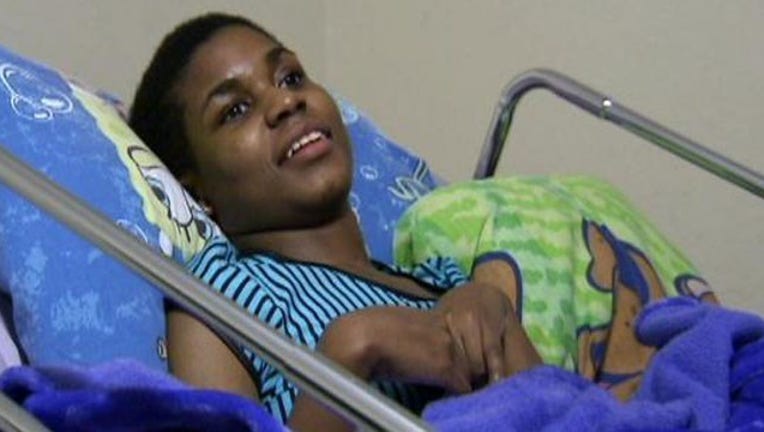 article
AUSTIN, Texas - Turning sixteen is an exciting time for a teenager.
"She was looking forward to getting her driver's license," said Kia Smith's mother, Kimberly Jenkins.
The teenager just celebrated the milestone early March. But unlike many, she will never get behind a wheel, or even go to her own prom.
Three years ago, Kia Smith was with some friends in North Austin when she was hit by a car. She was left with a severe brain injury requiring round the clock medical care.
The driver, Lauren Cherry, who was allegedly drunk, fled the scene. Police were still collecting evidence when Cherry came back.
"She drove off and left her to die. She didn't know if there was someone there to call 911," said Smith's heartbroken Grandmother, Catherine Henry.
"She had no regard for life. She admitted in a statement that she knew she hit someone."
A Travis County Grand Jury indicted Cherry in early 2013 for "not stopping and giving aid," two more charges were later added.
"What happened from that point until now that we are all of a sudden putting a hold on this and things are changing?", asks a frustrated Jenkins.
In early March this year, Cherry's lawyer filed a motion to suppress the evidence against her. A judge has yet to rule on that request.
Kia's mother and grandmother are frustrated that the case hangs in the balance, with no clear assurance that Cherry will ever go to trial. ,
"I want to hear more about what's going on than what we have been given because before April 13, we thought we were going forward with the case," Henry said.
She says she will continue to ask questions until she gets answers.
"I'll fight the fight we have, we've already lost the battle anyway," Henry says about the state that Kia is in. "We are asking the DA why? What happened?"
Kia is one of four children. Her mother says she was the "glue that kept them together". She hopes that no family has to endure what hers has.
"I want justice for Kia. I want justice for the people before Kia," she said.
She says she is worried what kind of message this is sending to other people who drink and drive, there is going to be another Kia.
A civil suit against Cherry and two of the downtown Austin bars that served her was settled in 2013. The money going into a trust for Kia's enormous doctor's bills and round the clock medical car.
"Her doctor bills were in the millions by somebody else's hand," her mother explained.
Unable to hold back her tears, Kia's grandmother adds, "I would give it all back if i could get my Kia back if i could walk with her in the stores, if she could call me Granny one more time, that's all i really want."
Henry says she remembers the night before the accident, Kia yelled from the balcony and said, "Granny, I love you."
Those are the memories of another Kia. The one who lays in the hospital bed can't speak or move.
"Lauren can start her life over," said Jenkins of the driver, "my daughter doesn't get to, this is her life, nursing 12 hours a day, eating out of a Gtube, tons of meds."
Kia's family fears that that every day that passes is one more day that Lauren Cherry can enjoy the kind freedom that Kia will never have again.
"Ms Cherry. She's worried about going to jail, or maybe not going to jail," says Henry, "But Kia is in her own jail and she will stay there until the day she dies."