Family searching for missing 25-year-old last seen on Sixth Street
AUSTIN, Texas - The family of 25-year-old Tiera Strand is searching for answers after they say she disappeared this past weekend during a night out downtown on Sixth Street.
"It's bad. It's something you don't ever want to experience, because I have to stay strong to try to find my daughter," Monica Herron, Tiera Strand's mother, said.
Austin Police released the following to FOX 7 Austin: 
"On April 17, 2023, the Austin Police Department received a request to locate. Details are limited at this time. Our officers are following all investigative leads. No further information will be released at this time."
Tiera's family says she was last seen at Mooseknuckle Pub at 406 E. 6th St. on Sunday, April 16, at 2:30 a.m.
"Some girls in the club jumped her, started beating her up inside the club. They kicked her out, and the fight went outside," Herron said.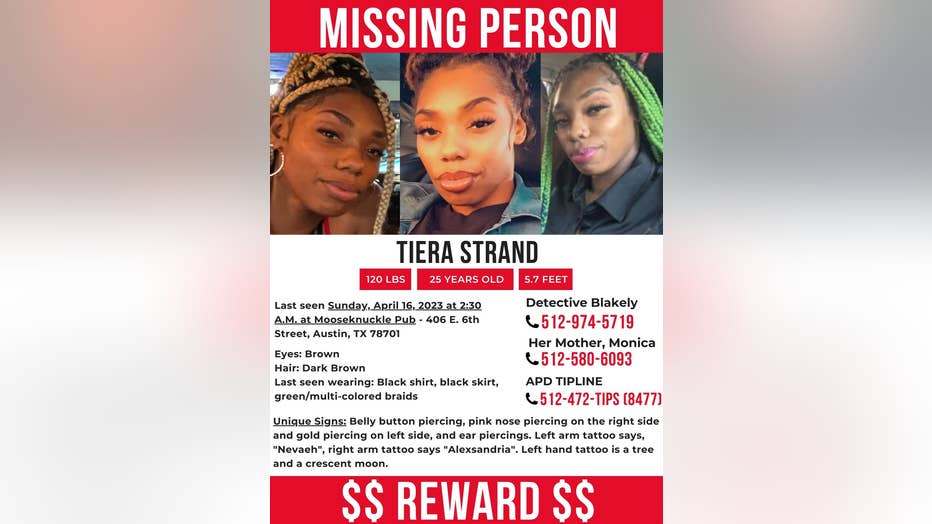 Tiera's family says cell phone video recorded by a witness shows the tail end of the fight and that the girls Tiera went out with didn't help her.
"They said she was angry with them, and they said she stormed off with no phone, no purse, no bank card, no money, keys to her car, everything just gone. They have it, and she just stormed off," Herron said. "I don't want to assume anything because I don't have any proof, but all I know is what they did to her, so I don't know if there was anything they did after that."
Herron says the friends called her Sunday to meet up.
"When they first told me what happened, I really didn't understand it, it wasn't until I met them, and they gave me all of her items, and that's when it set in that something was wrong, because it didn't make sense for you to be here, but she's not, and you have all of her personal belongings," she said. "It's not like her to leave her bank card that she works so hard for."
CRIME COVERAGE
Herron says her daughter is driven and has been working towards getting her high school diploma.
"This summer was the summer she was going to graduate, and she was going to go into the Navy, that's her dream to go to the Navy," she said. "She's a mother. She is ambitious. She has dreams and goals. I just want her to come home."
Tiera's family and friends will be handing out flyers Saturday afternoon in the area she was last seen to see if anyone recognizes her.