Arlington police officer killed in hit-and-run crash while on his way to work
DALLAS - An Arlington police officer was killed in an early morning crash on Interstate 20 in Southeast Dallas.
The crash happened between 5:30 a.m. and 6 a.m. Thursday, in the westbound lanes of the interstate near St. Augustine Road.
Officer Darrin McMichael, a 24-year veteran of the Arlington Police Department, was heading to work on his police motorcycle at the time.
This is the ninth Arlington police officer killed in the line of duty in the department's history.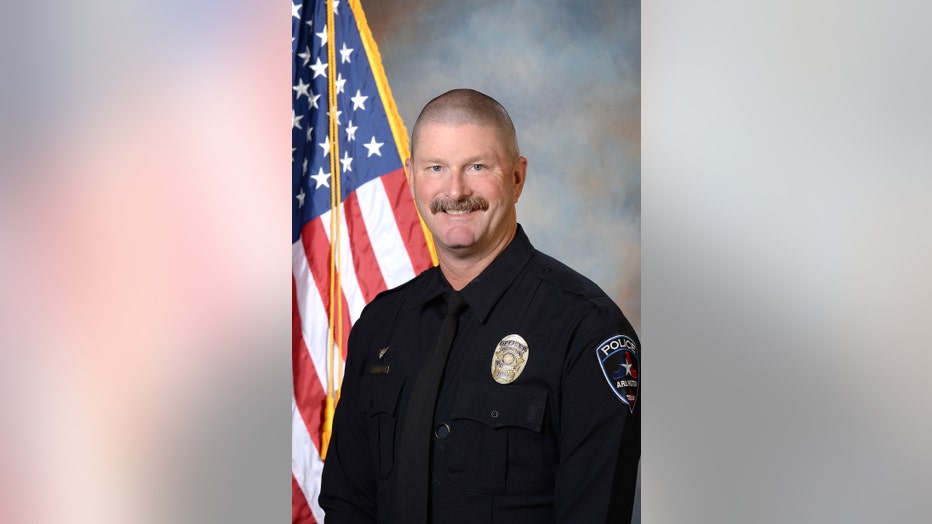 Officer Darrin McMichael (Courtesy: Arlington Police Department)
The Dallas County Sheriff's Office said investigators believe traffic slowed down for some reason and the officer bumped the car in front of him. He then fell off his motorcycle and was driven over by a dark-colored Dodge or Chrysler SUV.
The driver of the SUV drove off and did not stop to help, the sheriff's office said.
Officer McMichael's wife, who also works for the Arlington Police Department, was driving behind him at the time and witnessed the crash.
Investigators are now asking for the public's help to find that SUV. 
"What we're asking the public for is if anybody was in this area that's got dash cam video or saw anything, please let us know because we're looking for that vehicle that ran over the individual," said DSO spokesman Doug Sisk.
Anyone with information should contact Det. Chaney at 214-589-2323.
McMichael had served on the APD Motorcycle unit for the last 13 years. He was also a patrol officer and a detective in the North Patrol District during his APD career.
"Officer Darrin McMichael was a respected and beloved member of our APD family," said Arlington Police Chief Al Jones in a statement. "We are heartbroken and we are hurting. This is a devastating loss that will be felt for a long time. Please pray for his wife, who is also an APD employee, his family, his friends, and his APD family. They need all the support they can get right now."
Arlington Mayor Jim Ross went to the hospital on Thursday morning to speak to officers and family members.
"As a former police officer, it always strikes home when something like this happens. We ask that people pray for the family and the colleagues that are there suffering as a result of this tragic event," Ross said. 
It was a somber scene outside the emergency room entrance at Baylor Scott & White in Dallas when police officers from across North Texas stood at attention as a casket, draped in an American flag, carrying McMichael's body was escorted to the Dallas Medical Examiner just before noon.
His emotional wife and loved ones followed closely behind.
"He was loved by our community. He spent a lot of time out there and he's going to be truly missed, not only by the department but by our community," Jones added.
The Arlington Police Department said it will do whatever it can to comfort McMichael's family after this sudden, gut-wrenching tragedy.
As a large motorcade escorted McMichael's body from the hospital, investigators were still at the scene of the crash trying to gather evidence on the hit-and-run driver.
Chief Jones is asking the driver to do the right thing.
"Please turn yourself in. We are hurting as an organization and we need closure," he said.
Westbound I-20 was shut down between St. Augustine and Dowdy Ferry roads for several hours for an investigation.
All lanes of the interstate have since reopened.
The Arlington Police Department has left a traffic vehicle out in front of their main station on West Division Street for community members to leave flowers, messages and pay their respects.