VIDEO: Fort Worth police rescue kidnapped baby abandoned by suspect
FORT WORTH, Texas - Fort Worth police released body camera video of an officer rescuing a kidnapped baby who had been abandoned by the suspect.
Police said that officers were called to respond to a kidnapping call on N. Pecan Street.
A woman told officers that an unknown man drove off with her car and her six-month-old baby was inside.
A Fort Worth man told FOX 4 that child is his nephew. He didn't want his face shown or his name used. 
He said his sister-in-law stopped by his home near Main Street and Long Avenue to drop something off.
She left his nephew in the vehicle parked in the driveway. 
During the few minutes the child was alone, Fort Worth police said Elliott Reyes hopped inside. 
A neighbor outside noticed Reyes taking off in the car and alerted the child's family. 
Dozens of officers began combing the neighborhood. 
About an hour later, officers spotted the stolen car on Deen Road, about a mile and a half away. Police took the suspect, Reyes, into custody, but the baby was missing.
Fort Worth police admit they were worried at first, as the sun was setting and the baby was gone.
"We were freaking out at that moment. We had no baby," Fort Worth Police Sergeant Ronnie Chau told reporters. "We put him in a vehicle and had him direct us to where the baby was." 
Five minutes later, officers found the baby boy and car seat near a ravine on a dead end street in a residential area surrounded by garbage and discarded furniture.
"Just worried about where the baby can be. Where is the vehicle? And finding every method that we can and resources to get on top of this and get the baby back," Sgt. Chau recalled. "The baby was hanging on by the straps of the car seat. It was barely hanging on. His foot was in the dirt area."
Body camera video shows an officer sprinting toward the ravine while another pulled the baby out of the car seat, which had toppled over on its side. Officers said the baby was hanging by the straps of the car seat.
"Aw, it's okay. It's okay," Sergeant Chau can be heard saying on body camera while the baby cried.
The sergeant who found the child spoke to FOX 4.
"I was just elated. It was like an hour and a half of just buildup of just, where is this baby? Where could it be?" said Sergeant Chau on Wednesday. "At that moment it is just pure emotion and just letting it go."
The baby was examined by paramedics and then returned to his mother.
"She was very happy. She was just crying the whole time, and basically she just smiled and happiness," said Sergeant Chau.
Chau, a father himself, said his decades of training and parental instinct both kicked in. 
"The baby was alone for an unknown amount of period. You save it and give it comfort and make sure it's OK," Chau added.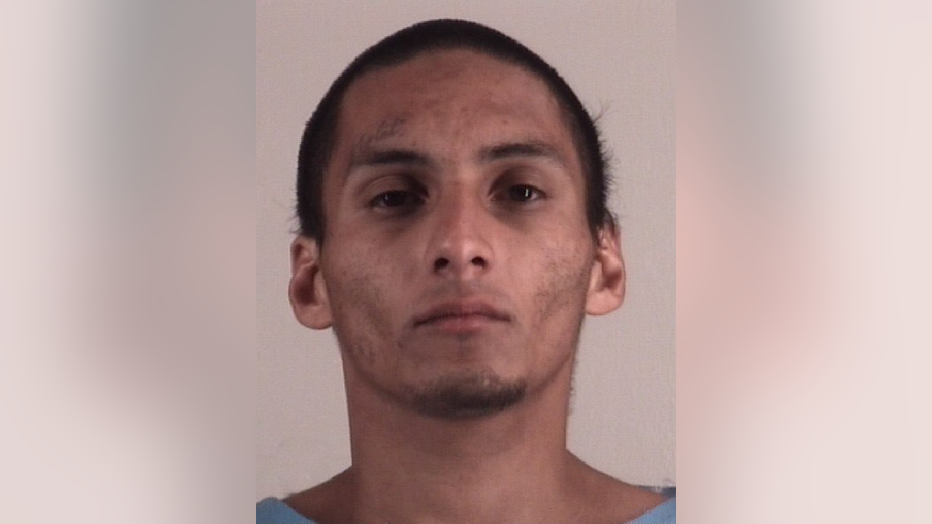 Elliott Reyes (Source: Tarrant County Jail)
Reyes was arrested and charged with kidnapping, abandoning/endangering a child and auto theft.
The Fort Worth family said they recognize the suspect. 
They said he would often ride his bicycle up and down the street. 
A bicycle was left behind when Reyes took off in the vehicle.