Georgetown Lady Eagles host "Hoops for Hope" community scavenger hunt
GEORGETOWN, Texas - The Georgetown Lady Eagles basketball team is hosting a community scavenger hunt over the next two weeks called "Hoops for Hope."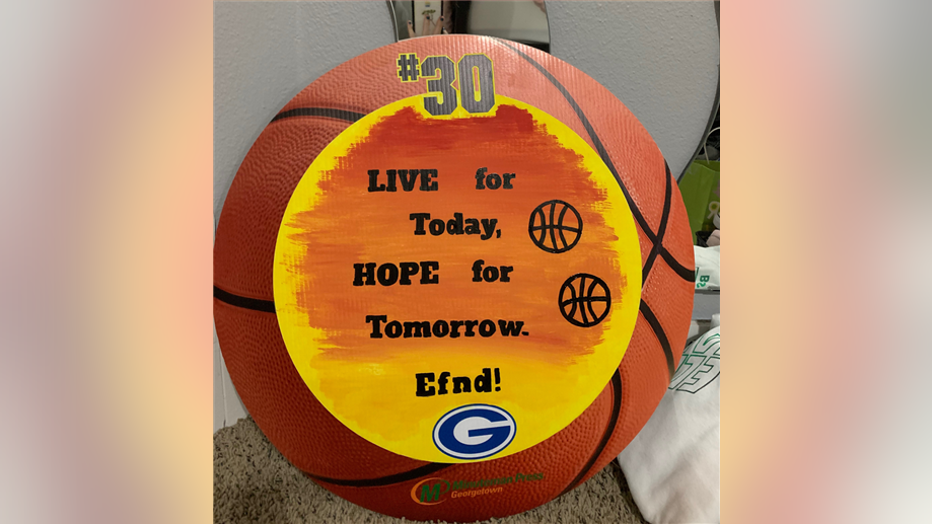 33 signs decorated with positive, uplifting messages of hope will be placed in easily identifiable, public places around Georgetown. The circular signs, made and donated by Minuteman Press of Georgetown, feature a basketball-patterned trim and each one is numbered to encourage the community to attempt to find all 33.
The idea came to Lady Eagle basketball coach and girls athletic coordinator Rhonda Farney after she saw how a similar project united her sister's community during the COVID-19 crisis, says the district in a release.
RELATED: Williamson County Sheriff's deputies use PA systems to remind people to practice social distancing
"Families with kids, as well as older people, all the town got behind it," Farney said. "I thought about how it could develop [the team's] leadership skills and develop their ability to collaborate in times where we can't all be together. There would just be so many positives."
Farney collaborated with the team remotely over Google Chat, and with the help of her coaching staff, the project began to take place. The team came up with their own slogans, such as "Each day brings us one day closer," and "Georgetown Strong." 
RELATED: Georgetown residents celebrate 9-year-old's birthday with parade
The hunt is from Saturday, April 25 through Saturday, May 9, and participants are encouraged to drive around Georgetown, snap a photo and post it on social media, tagging @CoachFarney and @MinutemanPress of Georgetown.
"My hope is that this experience will have people talk about how positive things can come out, even in challenging times," Farney said. 
The team also encourages participants to practice social distancing while hunting for the signs.
CLICK HERE FOR THE LATEST INFO ON THE CORONAVIRUS OUTBREAK
FOX 7 Austin is working to keep you up to date with coronavirus, with both local and national developments. Every weekday we're live at 12 p.m. with a special show reporting the latest news, prevention tips and treatment information.
You can watch live in your FOX 7 Austin app or on the FOX 7 Austin Facebook page.
You can also get the latest COVID-19 news from around the country at coronavirusnow.com.