Oath Keepers boss from Granbury found guilty of seditious conspiracy in 1/6 case
WASHINGTON, D.C. - Oath Keepers founder Stewart Rhodes, of Granbury, was convicted Tuesday of seditious conspiracy for a violent plot to overturn Democrat Joe Biden's presidential win, handing the Justice Department a major victory in its massive prosecution of the Jan. 6, 2021, insurrection.
A Washington, D.C., jury found Rhodes guilty of sedition after three days of deliberations in the nearly two-month-long trial that showcased the far-right extremist group's efforts to keep Republican Donald Trump in the White House at all costs.
Rhodes' attorneys believe this nearly two-month long trial was a fair one, but believe if it were tried outside of Washington, D.C. where the Capitol Riot took place, the outcome may have been different.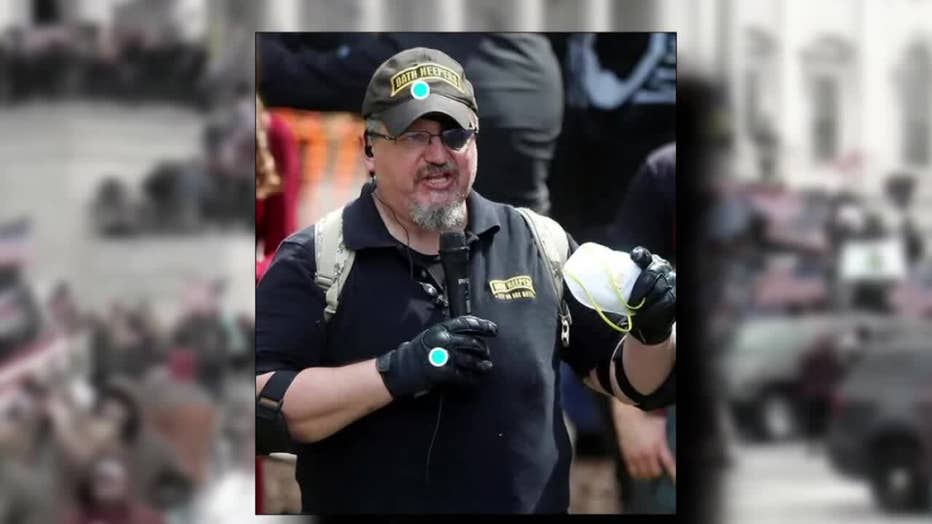 "It goes without question we're disappointed," said defense attorney Phillip Linder.
Oath Keepers founder Stewart Rhodes' path: From Yale to jail
The rarely used, Civil War-era charge calls for up to 20 years behind bars.
"Democracy depends on the peaceful transfer of power. By attempting to block the certification of the 2020 presidential election results, the defendants flouted and trampled the rule of law," Steven M. D'Antuono, assistant director in charge of the FBI Washington Field Office, said in an emailed statement. "This case shows that force and violence are no match for our country's justice system."
Rhodes didn't go inside the U.S. Capitol on Jan. 6, but was accused of leading a plot that began shortly after the 2020 election to wage an armed rebellion to stop the transfer of presidential power.
Jurors heard recordings and encrypted messages, in which Rhodes rallied his followers to fight to keep Trump in office, warned of a possible "bloody" civil war and expressed regret that the Oath Keepers didn't bring rifles to the Capitol on Jan. 6.
Oath Keepers founder from Granbury charged with seditious conspiracy in Capitol riot
Jurors heard how Rhodes spent thousands of dollars on an AR-platform rifle, magazines, mounts, sights and other equipment on his way to Washington ahead of the riot. They watched surveillance footage from the Virginia hotel where some Oath Keepers stashed weapons for "quick reaction force" teams prosecutors said were ready to get weapons into the city quickly if they were needed. The weapons were never deployed.
On Jan. 6, Oath Keepers wearing combat gear were seen on camera shouldering their way through the crowd and into the Capitol. Rhodes remained outside like a "general surveying his troops on the battlefield," a prosecutor said. After the riot, Rhodes and other Oath Keepers went to an Olive Garden restaurant to celebrate, according to prosecutors.
The trial revealed new details about Rhodes' efforts to pressure Trump to fight to stay in White House in the weeks leading up to Jan. 6. Shortly after the election, in a group chat that included Stone called "FOS" or "Friends of Stone," Rhodes wrote, "So will you step up and push Trump to FINALLY take decisive action?"
Another man testified that after the riot, Rhodes tried to persuade him to pass along a message to Trump that urged the president not to give up his fight to hold onto power. The intermediary — a man who told jurors he had an indirect way to reach the president — recorded his meeting with Rhodes and went to the FBI instead of giving the message to Trump.
"If he's not going to do the right thing and he's just gonna let himself be removed illegally then we should have brought rifles," Rhodes said during that meeting, according to a recording played for jurors. "We should have fixed it right then and there. I'd hang (expletive) Pelosi from the lamppost," Rhodes said, referring to Democratic House Speaker Nancy Pelosi.
In an extraordinary move, Rhodes and two other defendants took the stand in their defense, opening themselves up to intense questioning from prosecutors. Rhodes told jurors there was no plan to attack the Capitol and insisted that his followers who went inside the building went rogue.
"There was no way we could keep him from taking the stand," said Linder.
Rhodes' attorneys say their client had two conditions when he hired them.
"He would never take a plea deal, and we could never keep him off the stand," Linder said.
On trial alongside Rhodes, were Kelly Meggs, leader of the Florida chapter of the Oath Keepers; Kenneth Harrelson, another Florida Oath Keeper; Thomas Caldwell, a retired Navy intelligence officer from Virginia; and Jessica Watkins, who led an Ohio militia group.
Meggs was also convicted of seditious conspiracy, but the three others were cleared of the charge. Instead, they were convicted of obstruction of Congress.
"I think the government was trying to send a message," said former U.S. Attorney Richard Roper.
Roper says the seditious conspiracy charge is rare. Rhodes and Meggs are the first ones in nearly three decades to be found guilty of the charge.
"I wouldn't be surprised if there will be some kind of cutting edge issues that might be raised in appeals," he said.
Rhodes plans to appeal, according to his attorneys, but Roper says it is very rare for an appeal to be successful.
Jury selection for a second group of Oath Keepers facing seditious conspiracy charges is scheduled to begin next week. Several members of the Proud Boys, including the former national chairman Enrique Tarrio, are also scheduled to go to trial on the sedition charge in December.
The Associated Press contributed to this report.