#HAM4HAM digital lottery unlocks $10 'Hamilton' tickets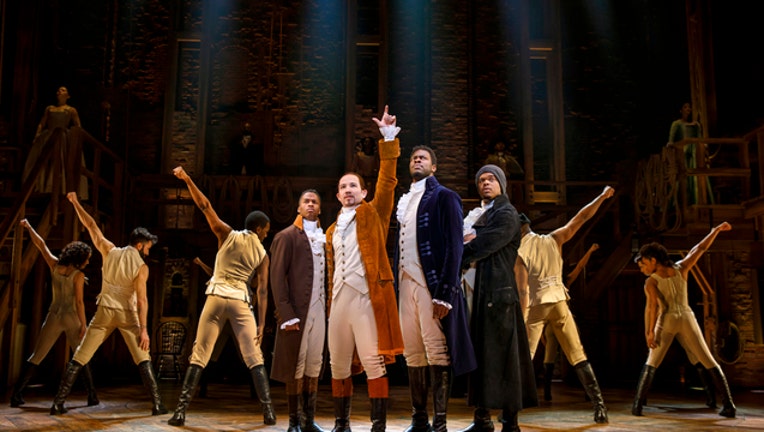 AUSTIN, Texas (FOX 7 Austin) - Don't have your tickets yet for the Austin stop of the U.S. tour of "Hamilton"? You may be in luck.
Tickets have been selling out fast for the Broadway hit musical's three-week stay May 26-June 16 at Bass Concert Hall, but you may have a chance at $10 tickets thanks to a digital lottery.
Forty tickets will be available for each performance and the lottery opens up two days before each show. The first lottery will open at 10 a.m. on May 26 for May 28's opening night.
You can enter the lottery one of two ways: by downloading the official "Hamilton" app in the Apple App Store or Google Play Store, or by visiting the lottery's website to register.
The lottery opens at 10 a.m. CST two days before each performance date and closes at 9 a.m. CST the day before each performance date. For example, the lottery for May 28 will open at 10 a.m. CST on  May 26 and close at 9 a.m. CST on May 27. 
The lottery is randomized, so order of entry or purchases have no effect on chances of winning, and repeat entries and disposable email addresses will be discarded. No purchase is necessary to enter or participate. Winners will be notified by email shortly after the lottery closes with a link to purchase the tickets. Only one entry is allowed per person.
Each winner will have until 4 p.m. CST after notification to purchase up to two tickets, which must be purchased online with a credit card using the purchase link and code in the notification email. Any tickets not claimed will be forfeited. Tickets must be picked up at will call with a valid photo ID matching the name drawn. Lottery tickets are void if resold.
Entrants must be 18 years or older. Tickets are non transferable and lottery prices are not valid on prior purchases. Ticket limits and prices displayed are at the sole discretion of the show and are subject to change without notice. Lottery ticket offer cannot be combined with any other offers or promotions. All sales are final with no refunds or exchanges. The lottery may be revoked or modified at any time without notice. 
To learn more about the lottery, visit the lottery's website.