Health officials recommend Travis County moves to stage three
AUSTIN, Texas - Dr. Mark Escott with Austin Public Health announced Tuesday that Travis County is moving to stage three on the COVID-19 risk chart. Previously, the county had been in stage four.
While the risk level has been downgraded, Escott wants everyone to keep taking precautions.
"A lot of people want to relax, they want to celebrate the end of summer," Escott said. "Now is not the time to do that, now is the time to stay the course.'
Under stage three, residents within Travis County would still be recommended to avoid social gatherings outside of their households, to keep gatherings to ten people or less, and for those with underlying health conditions to continue to limit unnecessary contact. 
RELATED: Austin-Travis County residents urged to remain vigilant despite downward COVID-19 trend
Escott says Austin is on a downward trend that's represented in case counts, hospitalizations, ICU beds, and ventilators. "This is reassuring news and further evidence that the epidemic has been declining in Travis County," he said.  
Escott says a backlog caused the system to show non-active cases, adding that many of the new cases being counted aren't active. "So 40 to 50 percent of new cases are no longer active," he said. "The actual number of new cases are going down rather than plateauing."
With the transition to stage three, there is not much of a change, with the only main difference being in shopping and dining and non-essential travel. However, according to the city, "no facilities will be opening as a direct result of the move to Stage 3; the risk-based guidelines are recommendations for individual behaviors."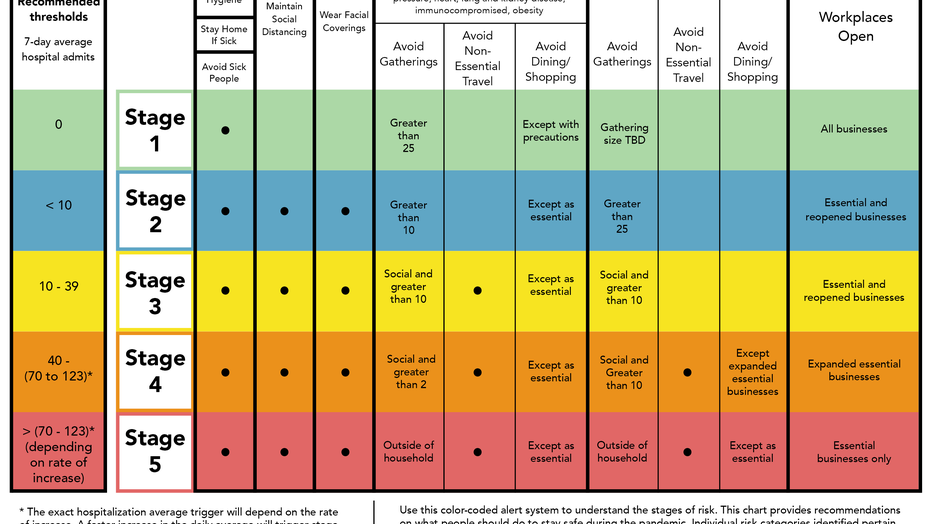 The city says it looks at a mix of guidelines and recommendations when it comes to making decisions on re-opening plans, and Dr. Escott's decision today is aimed at what community members should feel safe doing.
"If we continue to stay focused, if we continue to be vigilant, we can push this disease trend down further and be in a better position to open schools and keep them open," Escott said.  
DOWNLOAD THE FOX 7 AUSTIN NEWS APP
However, Escott did note that while he is scaling back the risk factor, one area he is concerned about is the hospitalizations of school-aged children. "Again school-age children now representing four percent of total hospitalizations, which is the highest number we've seen since this pandemic has begun," he said.
He shared a reminder that for that 10 to 19 age group, it is possible to get this virus.
SIGN UP FOR FOX 7 AUSTIN EMAIL ALERTS
Officials with Austin Public Health spoke at the Travis County Commissioners Court. You can watch the rest of the meeting here.
CLICK HERE FOR THE LATEST INFO ON THE CORONAVIRUS OUTBREAK
___
FOX 7 Austin is working to keep you up to date with coronavirus, with both local and national developments. You can also get the latest COVID-19 news from around the country at coronavirusnow.com.