Helicopters used for law enforcement along Rio Grande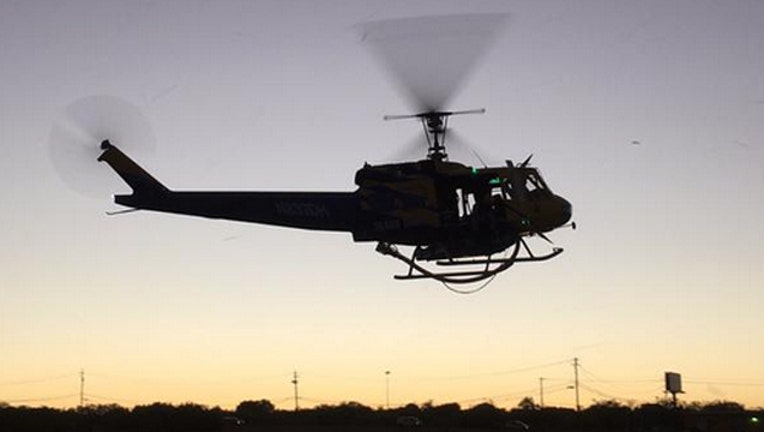 article
 McALLEN, Texas (AP) -- From 700 feet in the air, the Rio Grande looks like an artery, winding into the horizon on both sides of the U.S.-Mexico border.
   Hundreds of dirt trails and small canals resemble veins connecting the river to farmlands and roads that channel into highways and cities all across the Rio Grande Valley.
   "Smugglers know how to use these trails and terrain to their advantage," said Rod Kise, spokesman for U.S. Customs and Border Protection. "In some places they can hop the fence and be on a main highway in a matter of minutes."
   The Monitor (http://bit.ly/1HUb7ni) newspaper reports the McAllen Air and Marine Branch hosted a media ride-along Monday morning on a UH-1H Huey. This medium range helicopter, often used for rescue missions, provided a breathtaking view of Border Patrol officers in action patrolling the more than 300-mile riverbank and apprehending illegal crossers.
   Since 2013, the Rio Grande Valley sector has become the busiest area for illegal crossings in the nation, surpassing Tucson, Arizona, which led in apprehensions since 1998. In fiscal year 2014, more than 256,000 people were apprehended within an area stretching from the mouth of the Rio Grande to Falcon Lake, according to Customs and Border Protection statistics.
   "We assist the Border Patrol between the ports of entry where the river winds. Not only does the foliage change along the river bank, but also the depth, making it very challenging for anyone that's not on an aircraft to patrol," said William A Durham, director of air operations in McAllen. "We provide the eyes in the sky for any assistance that is needed on the border."
   On a dirt road near Peitas, just steps away from the river, officers dragged tires tied to the back of their SUV to clear the hundreds of migrant footprints left behind from the night before. The scattered trail led to sugar cane fields, which can grow up to 10 feet high and provide excellent cover for someone trying to avoid detection, agents said.
   Every season provides different challenges for air operations agents and changes the landscape they fly over every day. Through the use of technology and expertise, the department has grown to be one of the most critical in CBP's mission, according to Durham.
   "We have a skill set and a knowledge base that no one else has. . We apply it to the CBP's mission of counterterrorism, illegal crossings and narcotic interdictions," Durham said.
   Durham's branch seized six aircraft last year, including a Beech King Air E90 airplane that was attempting to depart from the McAllen Miller International Airport with seven passengers onboard, believed to be in the country illegally. The Office of Air and Marine contributed to the apprehension and arrest of more than 84,000 suspects and the seizure of about 50 tons of marijuana last fiscal year nationwide.
   Recently, the OAM went through some significant changes, including a new initiative to educate the public on their mission and a name change that is more fitting, Durham said. "We are trying to apply this knowledge base to all operations, so we changed our name to Air and Marine Operations. It's subtle, but it's more accurate and part of a national initiative to show the public what we are and what we do."
   In the Rio Grande Valley Sector, the bulk of the work for AMO agents is supporting the Border Patrol with their missions, not only near the river but all across the region, including rescues of migrants lost or in distress in the brush near Falfurrias.
   "These aircraft have been real life savers out in the ranchlands," Durham said, referring to the Huey that can lift up to 10 people and fly for two hours. "They are literally saving lives every day."
   Border Patrol agents in the RGV sector estimate more than 700 rescues for fiscal year 2015, a more than 80 percent increase compared to last fiscal year, according to CBP statistics.
   When Durham became director of the McAllen Air Branch in May 2013, they had six pilots and 12 aircraft in the branch based out of a row of hangars at the McAllen airport. Over the past two years they have acquired three additional aircraft and hired 10 agents due to the increase in traffic through the area, Durham said.
   They currently have 10 AS350 or A-Star's, which can fly at a maximum altitude of 16,000 feet for up to three hours and is equipped with infrared sensors and video cameras used for surveillance.
   "If Homeland Security Investigations wants us to survey somebody going from point A to point B, we can do that," he added.
   The AMO branch also assists local, state and federal law enforcement agencies in the Valley. With the A-Star they conduct all kinds of air support including surveying of stash houses and tracking suspicious vehicles, Durham said.
   "Before, the Hidalgo County Sheriff's Department didn't know to call us for air support and they do now," Durham said. "This would limit us because people could not image all we could provide."
   CBP is currently undergoing their largest recruitment effort in nearly a decade. Some of the new recruits will be AMO pilots. Most of the recent hires are ex-military pilots who already have the minimum required 1,500 flight hours, Durham said.