Hill Country popping with peaches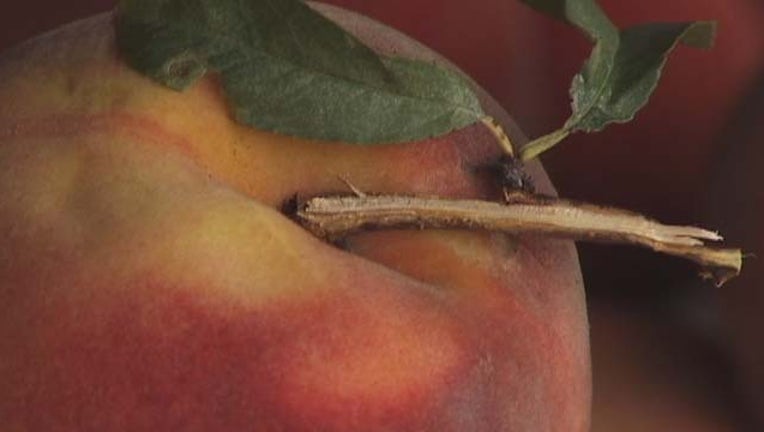 article
The peach crop in the Hill Country is peaking now. The harvest is continuing a rebound after several long years of drought.
With one look its easy to state the obvious, things are just peachy at roadside stands between stonewall and Fredricksburg. It's a bumper crop for peach growers in Gillespie County. Some trees are so full will fruit limbs are breaking from the weight. But earlier this year Jamey Vogel admits he wasn't quite sure just how big his harvest would be.
"Those peaches kind of hide in the trees, until they start to color and it turns out we have a really great crop this year," said Vogel.
Vogel now predicts his orchard will produce about 12,000 boxes of peaches this season.
"2014 was a good crop and this is actually two good crops in a row,  and that's the first time since 2004, 2005, that we've had that," said Vogel.
It's a big rebound from two years ago when a hard freeze-along with the drought cut production to 100 boxes. Now, Vogel and his team are just trying to keep pace with the steady stream of customers pulling up to the stand.
"The traffic has just been phenomenal."
More peaches on the trees mean more visitors to this part of the Hill Country, and that's providing a welcomed economic boost. You can see the economic impact in Fredricksburg.  Stores and restaurants are filled. Sales tax revenues are up.
In 1996 visitors to Gillespie County spent $32 million, according to the Fredericksburg Convention and Visitors Bureau. In 2010 as the drought took hold. Direct travel spending was at $82 million which then struggled to grow to $89 million in 2013. A milder summer is attracting more people and  2015 could produce a big revenue spike.
"We always spend money, we dribble it along the way, we eat out and buy peaches, and we just have a good time here," said Hollin Haberman who was visiting from Cedar Park.
The growing season for peaches will start tapering off by mid August.  After that, Jamey Vogel and other Gillespie County farmers will start preparing their orchards for the next harvest and another economic engine will start ramping up; the fall festival season.