Hutto holds fundraiser for family of Sergeant Chris Kelley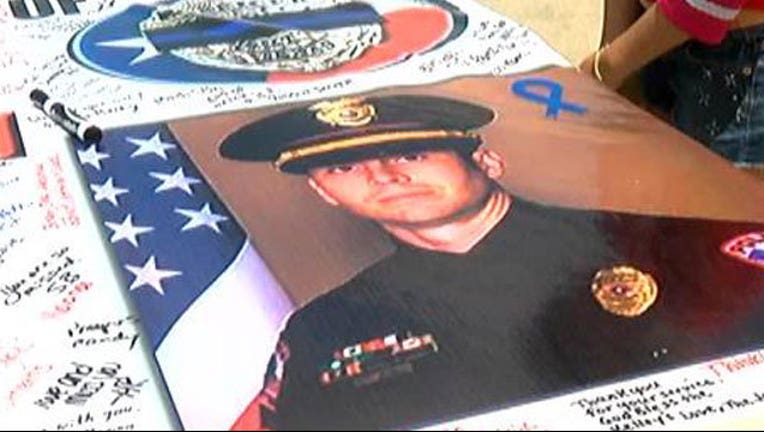 article
The Hutto community is banding together to support a fallen officer's wife and two children. Saturday, they held a fundraiser at Fritz Park in Hutto to assist police Sergeant Chris Kelley's family.
Gabbrielle Breda has lived in Hutto for several years. She says in tragic times like these, her community knows how to come together.
"I came out today to support the Kelley family and the community who loved Chris," said Breda.
The Hutto Police Department has been through troubling couple of weeks after losing their comrade Sergeant Chris Kelley died in the line of duty. Breda says she cannot fathom what Michele Kelley is going through.
"I would never be able to wear those shoes. I can't imagine her grief," said Breda.
People in Hutto are trying to bring some light to the situation. Saturday they gathered at Fritz Park for fun, games, music, and barbecue, with all donations going to the Kelley family.
"It's a tragic event, and it's tough on the community it's tough on the family, it's tough on the police department," said Shane Hill, organizer.
It's a small gesture to show how much they really appreciate the fallen officer, and his efforts to keep them all safe.
"We get that we don't know the pain that someone else is seeing, and we care," said Breda.
Although many at the fundraiser did not know Kelley, people who live in Hutto say the community is so close-knit, it does not matter.
"A lot of communities live by their neighbors thirty or forty-years and have never borrowed a shovel, or come to each other when they see someone needs help with a package, and Hutto is not like that at all," said Breda.
Beneath the pain the  family is facing, Hutto residents want them to remember one thing.
"The community's here for them. Everybody is here for them," said Archie Loughrey, organizer.
The community's goal is to send a clear motivational message to remain Hutto strong.
Sergeant Kelley served with the department for seven years