Family searching for Austin man who went missing walking home from Rainey Street
AUSTIN, Texas - Family and friends from all over the country are searching for an Austin man who was reported missing on Sunday.
Elsie John, Jason John's mother, said she spoke to her son on Saturday.
"All our three boys get together and call us on every once a week. He was super excited. He was super happy," Elsie John said.
She said that's the last time she's heard his voice.
"This is a nightmare for me," Elsie John said.
Elsie John said she received a message on Sunday that her son never came home the night before. He was with his friends on Rainey Street and left at around 2 a.m.
"Jason has a dog, so he had left," John said.
Elsie John said he's seen on surveillance camera a minute later, but then nothing.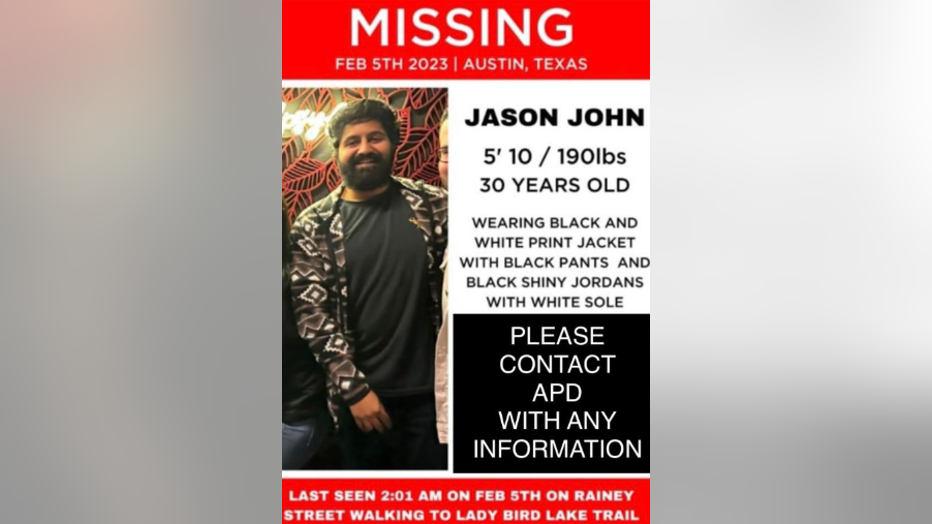 "The suspicion is he might have fallen into the Lady Bird Lake. There is a man named Christopher who says he's a homeless person who lives close to the water. He said he heard a noise, and he tried to help my son, and he was not able to help," Elsie John said.
She said the search was on.
"The ambulance came, police people came, and helicopter came and looked for him," Elsie John said.
Elsie John and about 50 other people from all over the country are also searching for their friend and family member.
"Right now, we want to find him, we want to take him home to New York," Elsie John said.
She said the search has been difficult because of no access to phone or computer data and the businesses closest to Lady Bird Lake don't have working cameras.
"There are a few people saying the camera is off. Why? You have a business. The camera needs to be on. You know there are some safety concerns. This is my son, I don't want it happening to somebody else. Every business needs to have their camera on," Elsie John said.
Elsie John said her son has lived in Austin for two years, works for a technological research and consulting firm, and is loved by many.
"He was a great son, he was very independent, he loved his work, he loved his family. There is nothing I can, or anybody can say bad about my son and I still can't believe I'm sitting in front of this lake and waiting for my son to come back," Elsie John said.
Austin PD said this is being investigated as a missing adult case and the investigation is still ongoing. They said they are actively searching for someone who possibly fell into Lady Bird Lake on Sunday but are unable to confirm the identity of that person.