You might get an Uber voucher if your JetBlue flight is delayed or canceled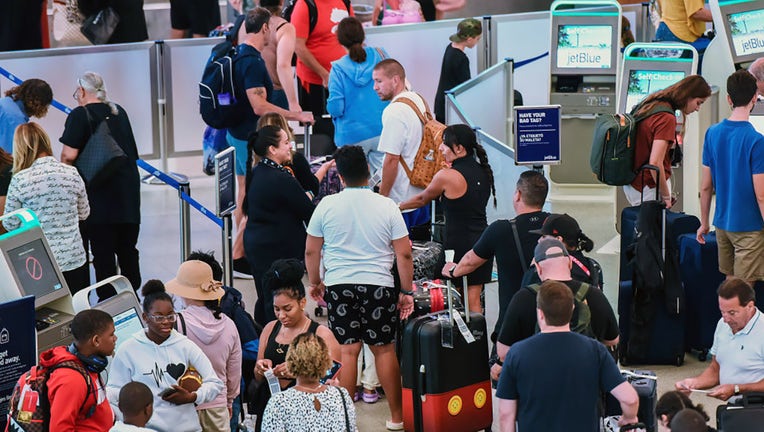 article
SAN FRANCISCO - JetBlue is hoping to ease the stress of a delayed or canceled flight by offering Uber vouchers to some of its customers. 
The companies announced this week that travelers who are faced with a qualifying flight delay or cancelation in every U.S. city where JetBlue operates will receive the complimentary rideshare voucher. 
JetBlue plans to expand the program internationally in "the months to come," starting with major airports in Paris, London, and Amsterdam. 
RELATED: Uber is now offering to pick up and return your packages for $5
"Sometimes travel doesn't go as planned, and flights can get delayed or canceled. In those cases, when the disruption is due to something in our control, our partnership with Uber for Business will make options for our customers more seamless," JetBlue President and COO Joanna Geraghty said in a statement.
Travelers who experience a qualified disruption will receive the Uber voucher in their email, limiting the need for customers to use their own money and request reimbursement from JetBlue, the companies said.
The Uber voucher will be valid for ground transportation from the airport to/from a local airport area hotel.
My JetBlue flight was delayed or canceled. Do I get an Uber voucher?
Not all JetBlue customers faced with travel delays will qualify for the Uber voucher.
If a JetBlue flight is delayed three hours or more or is canceled due to something that was within JetBlue's control – and results in the customer not being accommodated until the following day – they'll receive the rideshare voucher.
Some situations could include a flight delay or cancelation due to mechanical or staffing issues.
Air travel is more stressful than going to the dentist, many say
The new program comes as many U.S. passengers say air travel is becoming more stressful. 
Expedia recently surveyed 1,000 U.S. air travelers and found that 55% cited air travel as a leading cause of stress. The poll also found that Americans viewed air travel as "more daunting than filing taxes or visiting the dentist."
An ongoing shortage of both airline traffic controllers and pilots have plagued the industry, resulting in related travel disruptions. 
Earlier this year, the Department of Transportation launched a new online dashboard that allows travelers to see what kinds of guarantees, refunds or compensation the major domestic airlines offer in case of flight delays or cancelations. It also helps families identify which carriers seat children under 14 next to an accompanying adult at no additional cost. 
RELATED: Uber lost and found list includes unique items like lightsaber, fake blood and teeth
This story was reported from Cincinnati.