'Get back to work': Habitat for Humanity CEO remarks on Jimmy Carter's legendary work ethic
Former President Jimmy Carter, who at 98 years old is the longest-lived American president, has entered home hospice care in Georgia.
His name will forever be tied to politics in the U.S., a moderate Democrat who served the 39th presidency term as an "outsider" in the wake of the Vietnam War and the Watergate scandal. But his name is also synonymous for many with the nonprofit organization Habitat for Humanity. 
Carter and his wife, Rosalynn, have worked extensively with Habitat for decades. In fact, his volunteering has become so enmeshed with the organization that many people believe he founded it. 
"One of the myths about Habitat is that President Carter started and runs Habitat, which is actually not true," Habitat's CEO Jonathan Reckford told LiveNOW from FOX with a smile.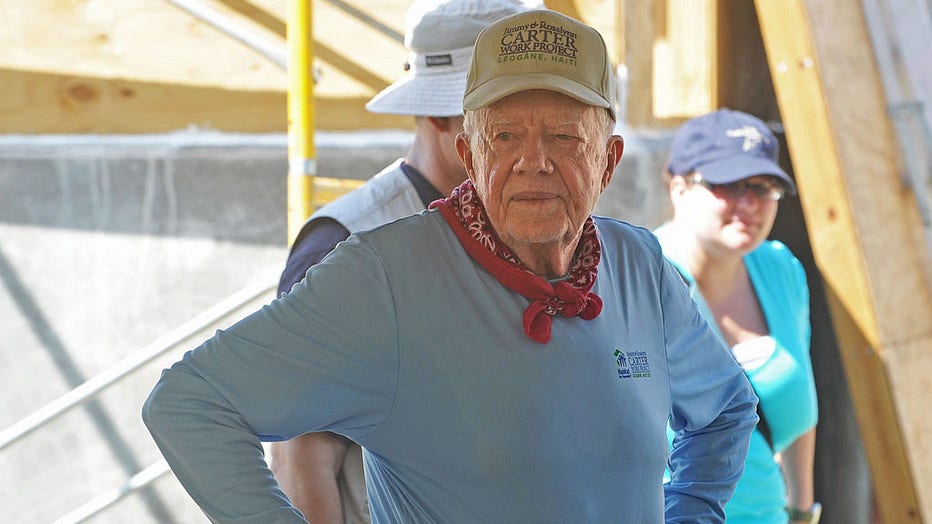 Former US president Jimmy Carter helps build a house as he visits the construction site of houses being built by Carter's Habitat for Humanity foundation for victims of the January 2010 earthquake in Leogane, 33km south of Port-au-Prince, on November
Habitat was founded in 1976 — the same year Carter was elected president. Carter served a single, tumultuous term and was defeated by Ronald Reagan in 1980. Four years later, the former president and first lady embarked on their first Habitat mission. 
"The president and Mrs. Carter went up with a busload of volunteers to New York City, slept in a church basement and worked on rehabbing a tenement building on the lower east side of Manhattan," Reckford said. "And no one had ever seen a global leader behave like that."
Reckford spoke with LiveNOW from FOX to share some stories from Carter's time volunteering with the organization, including the time he and Rosalynn gave up their room for a couple that was honeymooning, and the time he helped a father and son install a toilet. 
You can hear the stories in the video interview above. 
RELATED: Tributes pour in for Jimmy Carter after former president enters hospice care
Carter traveled extensively into his 80s and early 90s on the annual trips to build homes with Habitat for Humanity despite his health slowing down.
In August 2015, Carter had a small cancerous mass removed from his liver. The following year, Carter announced that he needed no further treatment, as an experimental drug had eliminated any sign of cancer.
Over the weekend, it was announced that, after a series of short hospital stays, Carter had "decided to spend his remaining time at home with his family and receive hospice care instead of additional medical intervention."
The Carter Center hasn't elaborated on Carter's health or current condition. 
RELATED: Former President Jimmy Carter enters hospice care, Carter Center says
"I remember I was carrying a board or something with him when he was probably 93 and still going strong. And he did make the comment, 'You know, this isn't quite as much fun as back when I was 80,'" Reckford laughed, commenting on Carter's "legendary work ethic" and "relentless focus."
"Everyone always wants to work on 'the Carter house.' It might be 100 houses we're building and everyone always wants to be on the Carter house. And I always warn them, 'Be careful. If you want to be on his house you're going to have to work really hard. There's no resting, there's no photo ops; it's all about work,'" Reckford said.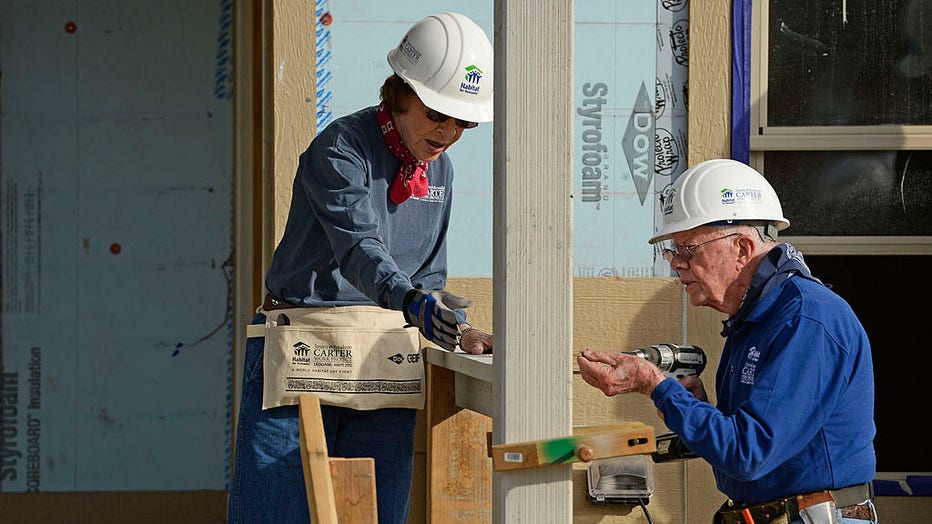 Former president Jimmy Carter and his wife, Rosalynn, work on building a home during Habitat for Humanity's Carter Work Project event in the Globeville Neighborhood in Denver, October 09, 2013. (Photo By RJ Sangosti/The Denver Post via Getty Images)
Reckford recalled a time when Carter was in his late 80s and got overheated on a project right before a media briefing. Carter wasn't able to attend as he was still being medically assessed, and Reckford asked Carter what he would like him to tell the media about why Carter wasn't present. 
"And he said, 'Tell them I'm fine and get back to work,'" Reckford said with a smile. 
"I remember talking with him after he was diagnosed with cancer and he was so at peace. You know, he didn't want to die but his faith was strong and he was OK," Reckford continued, "and I think, you know, he lived an extraordinary life and I hate the idea of losing his presence here, but I think he's OK and I think his message to everyone is, 'I'm fine. Get back to work.'"
This story was reported from Detroit.