Jimmy Carter says he's received 2nd cancer drug treatment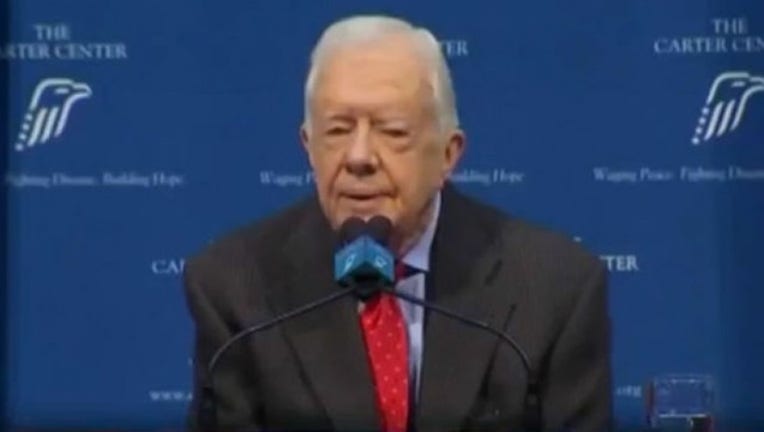 article
ATLANTA (AP) — Nearly a month after revealing that cancer has spread to his brain, Jimmy Carter said Tuesday that he has received the second of four planned doses of a drug to fight the disease.
The 90-year-old former president has stepped back from work at the human rights organization he founded after leaving the White House. But he and his wife, Rosalynn, updated a capacity crowd of 450 on The Carter Center's work Tuesday evening, maintaining their annual tradition.
The couple sat together in the same chapel where Carter last month held an honest and detailed news conference about his illness.
On Tuesday, he addressed his illness in less than five minutes, telling the audience that no further radiation treatments are planned. The treatment was aimed at four tumors.
Carter said he experienced no "ill effects" after recently receiving a second dose of Keytruda, a recently approved drug to help the immune system seek out and destroy cancer cells.
"And we'll know what the positive effects are later on," he said.
Carter joked that it took him three weeks to learn the drug's chemical name — pembrolizumab — and said he's grateful that his doctors scaled back the amount of water he must drink every day.
"The doctors have been nice enough to cut me back to 64 ounces (1.9 liters) a day. Instead of getting productive work done, I spent a lot of time in the restroom," he said, provoking laughter from the audience.
Donning reading glasses, Carter then launched into a summary of The Carter Center's recent work in election monitoring, treating diseases such as Guinea worm and mediating international conflicts.
He unflinchingly took audience-written questions, ranging from global security to his presidency and his childhood in rural Georgia. He reiterated his previous support for President Barack Obama's proposed nuclear agreement with Iran, calling it good for the U.S., Israel and the world.
He said war in Syria is the principal reason thousands of migrants are seeking asylum in European countries. He urged U.S officials to enlist Iran and Russia in ending the conflict, and to be generous in offering safe harbor for the people who are fleeing.
"There's not an easy answer to it," Carter said. "We now have more refugees from war zones on Earth than we've ever had in history, even after the Second World War."