Austin man reunited with cat after Lyft driver drove off with animal still inside
AUSTIN, Texas - A Northwest Austin man has been reunited with his cat after he says the Lyft driver drove off with the cat still inside.
"She was out of my sight for like less than 5 seconds and somebody stole her," said Palash Pandey, who was reunited with his two-and-a-half-year-old cat, Tux, early Monday.
The pair took a Lyft to the Banfield Pet Hospital on Research Boulevard Saturday afternoon. Tux was in her carrier on the floor. As Pandey walked around to get Tux out of the car, he says the driver just took off.
"I ran behind him. I was banging on his windows. I was screaming, 'stop, stop, stop,'" said Pandey.
Pandey frantically called and messaged the driver, but there was no response. Finally, after about two hours, Pandey received a text from the driver saying 'not here, sorry'.
"He said, 'I don't have anything of yours,'" said Pandey.
So Pandey posted about it on Reddit. Neighbors helped search for Tux, and Lyft notified riders to keep a look out.
"I just want to like to thank everybody who helped out," said Pandey.
Then, about 36 hours after Tux disappeared, there was a break in the case. Tux was spotted about a mile away. Around 1:30 a.m. Monday, Lyft investigators located Tux, without her carrier, outside a real estate office on Jollyville Road.
"They found her, like, hiding underneath the stairs," said Pandey. "Oh, of course, relief."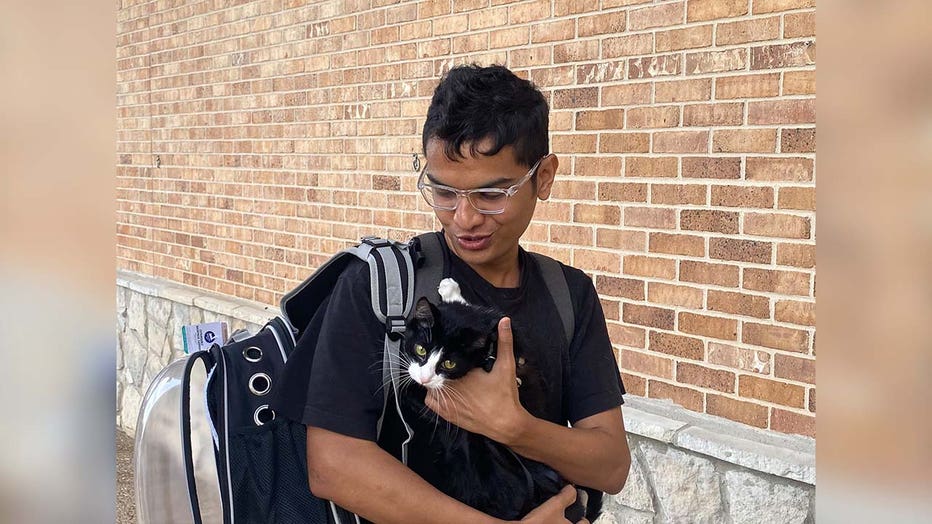 Palash Pandey and his cat Tux
Pandey says he won't be taking Tux in any ride shares anytime soon. But beyond that, he says he wants accountability.
"I really want answers. Like, how is it possible? Who? I want whoever is responsible to be held to account," said Pandey. "There's no way I'm just letting this go."
The good news? Tux got a clean bill of health, and she's back to her old self.
"She just ate a bunch of food last night, drank lots of water, and then just went to sleep. She seems fine," said Pandey.
In a statement Monday, Lyft said:
"We're so happy to report that Tux has been reunited with her owner and we are focused on ensuring Tux has everything she needs right now, including covering all of her veterinary bills. We'll continue to work directly with Palash to provide the support that they both need. We are actively working with all involved to fully understand the situation - to help prevent it from happening again. We're evaluating our policies to improve support for our community, including in cases like this."