Mass wedding for same-sex couples at Capitol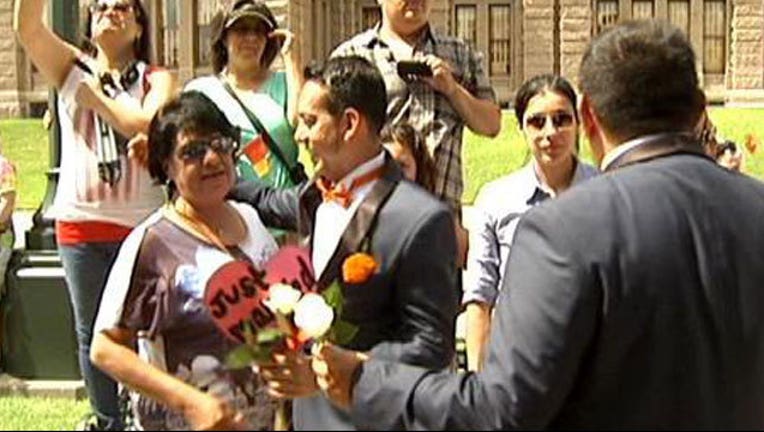 article
It's history in the making on the Capitol steps as Austin holds its first "Big Gay Wedding."
The wait for many has come to an end.
Austin's "Big Gay Wedding" joined dozens of same-sex couples in matrimony at the steps of Texas' Capitol on Saturday, like Javier and his partner Geri.
"After 13 years of being together we wanted to do it but we were waiting for Texas to pass the law. We were concerned it was taking longer than we thought but finally the day has come. We are here today to celebrate this beautiful victory and get married at the Capitol in Austin, which is the best city in Texas," says Geri Vela, just married.
They own a bridal salon in Austin in which they give support to others tying the knot.
To be able to get that support back, is a blessing to them.
"We have family coming in from Mexico, Dallas, the Austin area, all the suburbs of Austin area. So we're excited just to be here and be part of it," says Vela.
It was Friday, June 26th, when the Supreme Court declared that same-sex couples have a right to marry anywhere in the United States.
It was already legal in 36 states and the District of Columbia.
The ruling meant the remaining 14 states, in the South and Midwest, would have to stop enforcing their bans.
Travis County began issuing marriage licenses the day of.
They extended hours this weekend to help more couples take part in Saturday's mass ceremony.
"After it became legal, it kind of solidified things for everyone involved. Our family and friends are so supportive. We were so grateful that we could do it as quickly as possible. Then of course, we'll have a reception a little bit later," says Marcus Nunn and Cori Riggel, just married.
Marcus Nunn and Cori Riggel have been together 12 years.
They are looking forward to their future together, a future that seems a little bit brighter.
"Everyone that we've come into contact with has been so supportive of gay rights and gay marriage. They have just been completely supportive. We've had no negative repercussions as a result of it. In Texas, that's a huge ordeal. Huge benefit, Huge benefit. It's just a landmark day," says Nunn and Riggel.
Which will go down in Texas History.