Mattress Mack claims Astros didn't let him throw first pitch due to Mattress Firm
HOUSTON - Founder of Houston's Gallery Furniture Jim "Mattress Mack" McIngvale claims his competitor, Mattress Firm, blocked his opportunity to throw out the first pitch for yesterday's ALDS opener.
Mack appeared in a video on his Twitter saying, he was scheduled to throw the first pitch by the Astros but got a call retracting the offer just before the game.
Mack said the Astros told him Mattress Firm, an MLB sponsor, would not let him throw the first pitch.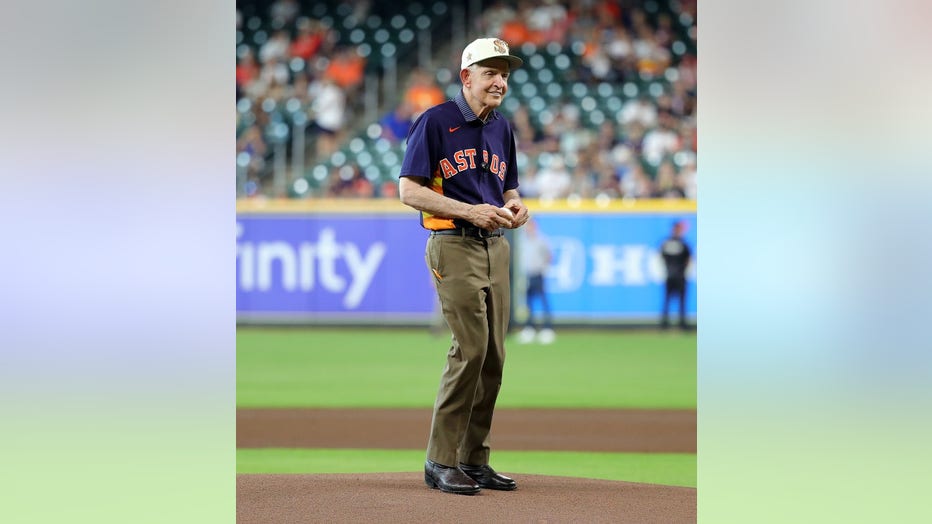 FILE PHOTO. Jim "Mattress Mac" McIngvale throws out a ceremonial first pitch as the Houston Astros play the Colorado Rockies at Minute Maid Park on July 04, 2023 in Houston, Texas. (Photo by Bob Levey/Getty Images)
Mack said this isn't the first time Mattress Firm stopped some of his public appearances.
 "I was scheduled to judge the police dog contest at the Houston Livestock Show and Rodeo last year. My friend Constable Mark Herman has a police dog named Mattress Mack, part of his unit. Mattress Mack catches criminals and sniffs out drugs, so I was very excited to judge him. Mattress Firm was also a sponsor of the Houston rodeo, but they said you couldn't judge it," Mack said.
In the video, he also relayed a direct message to Mattress Firm:
"There's plenty of business out there for all of us, what we need to do is promote bedding, promote a better night's sleep, not snipe at our competitors. Let's all be better than that and Go 'Astros!"
Mattress Firm also released a statement in response to Mack's claims:
"While we love being the Official Sleep Partner of Major League Baseball, we don't determine who throws out the first pitch. We're here to help Astros fans crush their sleep, not their dreams. Go 'Stros!"