Missing Austin man's family, friends gather for candlelight vigil
AUSTIN, Texas - Family and friends of a missing Austin man gathered for a candlelight vigil Saturday evening. Jason John was reported missing last Sunday.
"I love you Jason, we are waiting for you to come back and this is something I don't know how much longer I can hold on to this, I am hanging in very strong, I am doing my best, but I don't know how long I am going to be hanging in, I need my son back and I need an answer," Jason John's mother Elsie John said.
Dozens of people from all over, including Jason John's brother from Dubai, and his dog, Ruffles, gathered near Chicano Park to sing, pray, and light candles after a very long week.
"I actually have no tears left, the first couple days I had tears and right now it's time for action," Elsie John said.
Elsie John said she received a message last Sunday saying her son never came home Saturday night. He was with his friends on Rainey Street and left at around 2:00 in the morning. His brother, Rinju John, said he's seen on a surveillance camera a minute later.
"I'm learning more about people being drugged on Rainey Street and roofied and judging from the 10 minutes of video I have, that wasn't my brother walking down that road, there was something more that was effecting him," Rinju John said.
Rinju John said there's a missing piece to this puzzle.
"A key point is that there'd no cameras on the entire trail and I've been on that trail multiple times, 7:30, 11:30, 1:00 a.m., it is so dark there it is a very dangerous and shady space,' Rinju John said, 'At the end of the day without that footage that's missing from the entire street, we're not able to close anything off 100 percent."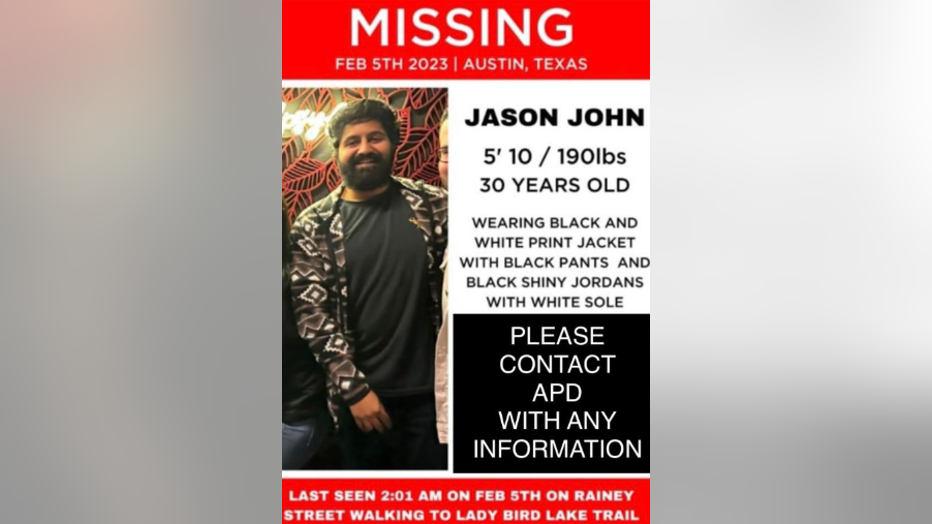 Crews have been searching by helicopter, boats, drones, and walking many, many miles for a week.
"We're trying everything we can from different angles, spread awareness and work with Austin PD, we're not getting any results," Rinju John said.
"He's a smart person, he won't go near the water. Okay, did someone catch him, did someone kidnap him, did someone drug him up, we need the law enforcement," Elsie John said.
Austin PD is investigating this as a missing adult case. If you have any information about Jason John's whereabouts, call the Austin Police Department.