Missing in Texas: A look at unsolved cases in Bastrop County
BASTROP COUNTY, Texas - A couple of weeks ago, we told you about a woman who was identified after four decades of being a Jane Doe in Bastrop County. Deputies say she was a victim of serial killer Henry Lee Lucas.
Now, we take a look at some other unsolved cases in Bastrop County, some of them going decades back. This includes missing persons cases and a look at how the office approaches cold cases.
The National Missing and Unidentified Persons System, or NamUs, shows several people as missing out of Bastrop County. 
One of them is Theodore Wenk, who was last heard from in June 1987. His last known location was near Chestnut Street and Hill Street in Bastrop. His car was found abandoned in a business parking lot in Austin. 
He's listed on the DPS Missing Persons bulletin as endangered with foul play possible. 
"We've talked to the family. We have no further leads at this time as to his current whereabouts. We have theories, but can't talk about those because it still is an active investigation," Sgt. James Miller said.
"Any time you have someone missing for a lengthy amount of time, and they don't show up somewhere, or they don't contact somebody, then obviously we tend to think of foul play being involved because it lends itself to that," Sheriff Maurice Cook said.
Some of the other cases in NamUs include that of Faye and John Whatley.
They were last seen in January 1976. They didn't show up for their granddaughter's wedding. A deputy doing a wellness check saw a bullet hole in a window and a missing bedroom door.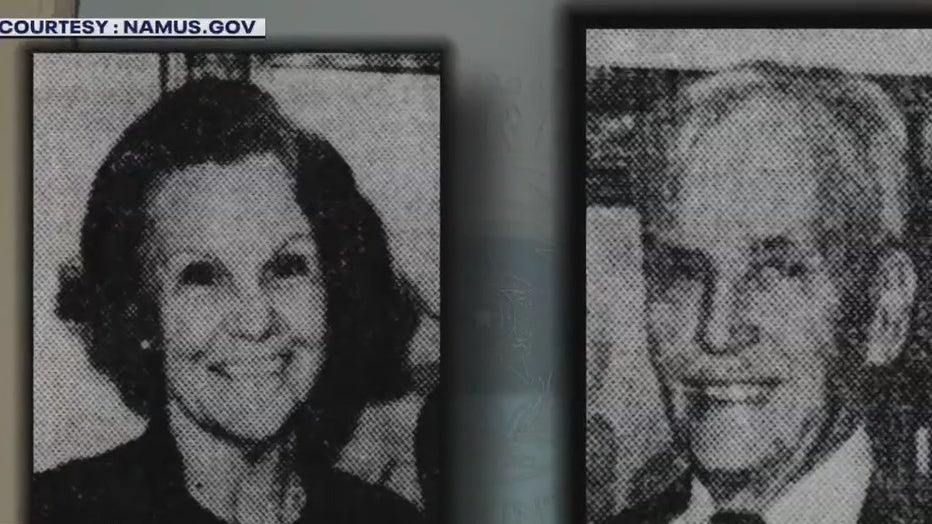 Faye and John Whatley. They were last seen in January 1976.
MORE MISSING IN TEXAS STORIES:
Jan Cadena-Urenda was last seen in 2021. He dropped off a friend, wrecked his car, and was seen on video running away and was never heard from again.
Carl Beall was last seen in 2014 in Cedar Creek. Foul play is suspected.
When it comes to cold cases in general, Cook says it's a matter of finding time to look at them between other investigations. There is no cold case team.
"We'll take a case that's cold, and then we'll shift it to some other investigators because we get new eyes on it," he said. "We don't give up on these cases."
He says he can only think of six unsolved homicides during his tenure. 
"As we look back through these cases and so forth, every one since I've been here, we have a known suspect. We just have not got enough evidence in order to present it to the District Attorney's office," Cook said.