New details in the death of two-year-old Colton Turner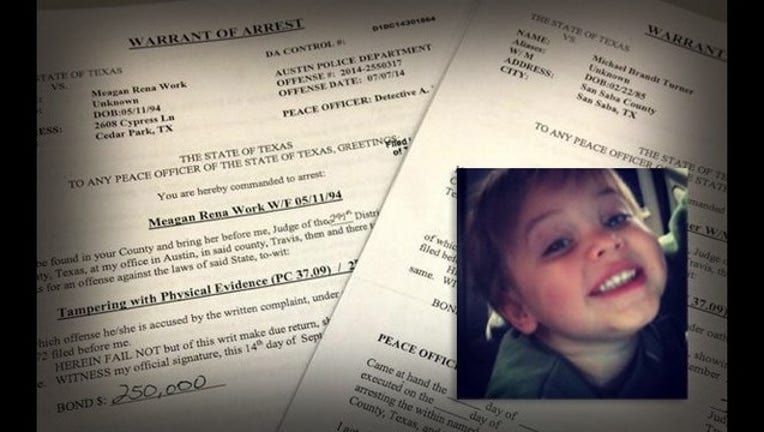 article
AUSTIN, Texas - Austin Police want access to Meagan Work's Facebook account. On Monday a judge signed off on a search warrant where police say Work has pictures that show alleged abuse. It's part of the ongoing investigation homicide detectives are working on.
You can read the full search warrant here.

While more charges are expected in the case Meagan Work, 20, and her boyfriend Michael Turner, 29, are charged with tampering with evidence in the case.
Court paperwork reveals that on September 12th around 2:30 in the morning Turner led police to Colton's gravesite in a wooded area off Felter Lane in Southeast Austin.
The investigation started September 10th when a concerned friend approached Cedar Park Police about Colton's whereabouts. The friend also produced pictures showing the boy had been abused. Police launched an investigation and were able to track down Work.
According to the documents Work gave three different accounts as to where her son was. She told a family friend that Colton was staying with family in East Texas. When questioned by authorities she told them Colton was kidnapped out of her truck in the parking lot of a motel on East Rundberg. Police questioned Work again and she told them she gave Colton to another couple at a fast food restaurant but could not remember their names.
The inconsistencies did not fool police. Another detective drove to San Saba County to questioned Michael Turner who was in jail there for probation revocation. Turner shared a similar story to Work's account about giving Colton away. When he was pushed Turner told police Colton was dead and gave specific details about his grave.
During interviews with investigators Work told police her son had a seizure. Instead of taking him to the hospital the couple brought him back to the motel room. Colton was not acting himself and was not walking according the affidavit.
Work told police she and Michael attempted to nurse Colton to health on their own. When Work woke up the next morning on July 7th Colton was dead.
Both Work and Turner told police Colton would have a large bump on his head. During their interviews with police the paperwork appears to show the couple blames each other. Turner told investigators he was ready to drive to the hospital but Work feared they would get in trouble.
After finding Colton dead the couple waited until sundown to hide his body according to the court documents. Turner told detectives Colton's body was wrapped in a purple blanket. The couple planned to bury Colton but Work told police the grave was not deep enough. The couple put Colton's body in the bed of a pick-up truck and drove back to the motel. The next evening the two drove to a wooded area off Felter Lane. Turner told police he borrowed a shovel and dug a grave two to three feet deep. Turner says he covered the grave with wood and placed sheetrock on top of it. Turner says Work waited in the car while he buried her son.
Turner is not the biological father of the child but he calls Colton his son. Turner was at the hospital and gave Colton his middle and last name. The child's biological father has a criminal history.
According to the search warrant Work's sister was aware of the alleged abuse and so was Child Protective Services. CPS confirms there are previous cases involving Colton. The agency is reviewing those cases to see whether they were handled according to policy.
FBI, Texas Rangers, APD and Cedar Park Police assisted in locating the boy's body. Austin Police have jurisdiction for the case.
 To read the complete affidavit click here.