Passenger traffic at Austin-Bergstorm down due to COVID-19
AUSTIN, Texas - Passenger jets are still taking off and arriving at Austin-Bergstrom International Airport, but the grackles flying around are now heard more than jet engines.
In the main terminal where every year more than 10 million people move through, it's practically empty with more airport employees than passengers.
A ghost town is what Elodia Lumbreros called it. She drove up from San Antonio in order to fly to Chicago with her two daughters and son-in-law. She understands the trip is risky, but they got cheap tickets and want to be with family. "I know it's against what's going on now but I think now is when we need family," said Lumbreros.
RELATED: LIST: Confirmed coronavirus cases by county
Officials at Austin-Bergstrom say there has been an 85 to 90 percent drop off in passengers because of the outbreak of COVID-19. Last year in the first week of April the number of people each day flying in and out of Austin ranged from 19,000 to 26,000. Now, in that same time period, there were as few as 549 passengers on April 8. The top daily number so far in April came last Friday at 954.
The following is a day-to-day passenger count comparison for April to this time last year:
April 1: 943 in 2020; 25,125 in 2019
April 2: 851 in 2020; 19,387 in 2019
April 3: 954 in 2020; 19,800 in 2019
April 4: 841 in 2020; 25,572 in 2019
April 5: 907 in 2020; 24,797 in 2019
April 6: 721 in 2020; 17,219 in 2019
April 7: 650 in 2020; 26,356 in 2019
April 8: 549 in 2020; 26,536 in 2019
April 9: 770 in 2020; 20,532 in 2019
RELATED: TIMELINE: Texas' continued response to COVID-19 pandemic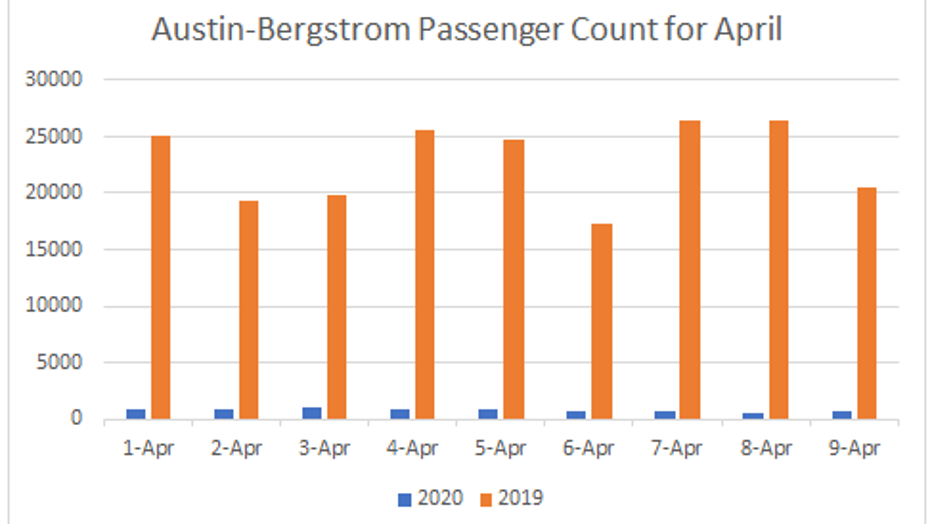 A bar graph showing the April passenger count at Austin-Bergstrom for 2019 (orange) and 2020 (blue)
On Friday, Thomas Vargo and his fiancé Holly Martinez were traveling to Ohio to pick up a car that they need. "But to be honest with you, I feel like this is what we need to do right now for the situation that we're in," said Vargo.
Their carry-ons for the trip include viral protection. "Well we got vinyl gloves, got our mask, even got pledge wipes with Clorox and Pine-Sol in, so when we sit down we can wipe everything down," said Martinez.
RELATED: Track COVID-19 in Texas
Those flying into Austin, before they can be greeted by friends and family, have to go through a new type of airport screening. State troopers are posted at Austin-Bergstrom in response to an executive order by Gov. Greg Abbott. The troopers are set up in the corridor leading to the sky bridges. They are asking passengers where they were flying in from.
Among those questioned, and cleared, was Diony Eufracio. He was returning home from Philadelphia. He said it was strange to be questioned, but he understood why it was being done. "It's for the safety of everyone so I'm all for it," said Eufracio.
People coming in from areas identified as viral hotspots are being told they have to go directly into a two-week quarantine. That's what happened to Anayelli Perez who flew in from Chicago. "I didn't really think it was that serious but I got here and they did give me the paperwork to fill out and I was like oh OK well I have to do it?" said Perez.
RELATED: Governor Abbott issues essential services order for Texas
Others who arrived Friday said they knew they would be put under a quarantine order. Dan Ramirez came in from California and said he believes he won't have to spend all 14 days in a lockdown. "I'm here only here until Monday, really all I'm here to do is see my family," said Ramirez.
Troopers told those who placed in a quarantine that random checks will be done to make sure they are following the rules. DPS sent the following response to an inquiry made by FOX7 on Friday about the screenings that have been done.
RELATED: How you can help service industry workers furloughed or laid off due to coronavirus
"Governor Greg Abbott tasked DPS with enforcing the Governor's Executive Orders, GA-11 related to air travel from designated locations and GA-12 related to road travel from Louisiana. From March 28-April 7, DPS Officers screened over 60,000 individuals and collected 14,825 travel forms from individuals subject to the mandated self-quarantine," stated a DPS spokesperson.
DPS did not disclose how many people, if any, have violated the quarantine.
CLICK HERE FOR THE LATEST INFO ON THE CORONAVIRUS OUTBREAK
FOX 7 Austin is working to keep you up to date with coronavirus, with both local and national developments. Every weekday we're live at 1 p.m. with a special show reporting the latest news, prevention tips and treatment information.
You can watch live in your FOX 7 Austin app or on the FOX 7 Austin Facebook page.
You can also get the latest COVID-19 news from around the country at coronavirusnow.com.