Police, FBI investigating anti-Semitic flyers found in Colleyville as hate crime
COLLEYVILLE, Texas - Colleyville police have contacted the FBI over anti-Semitic and white separatist flyers found in driveways, and they are being investigated as a hate crime.
One flyer claimed "every single aspect of the COVID agenda is Jewish." Another made connections to Jewish members of the Biden Administration, while there was also a flyer that said "Black lives murder white children."
Nathan Boone cleaned up trash in his Colleyville neighborhood Sunday.
"I think the right thing to do is just to pick them up and dispose of them properly," he said.
Disposing of what police call "anti-Semitic and white separatist materials" found throughout several North Texas neighborhoods Sunday, including Boone's neighborhood near Kimzey Park.
"I'm not going to go through and read it. I'm just going to pick them up and throw them away," he said.
Colleyville police said hundreds of the flyers were placed in plastic bags and methodically placed on driveways overnight, and they even had rocks inside the bags so the wind wouldn't blow them away.
Now, at the very least, police say this is littering, but they're also looking into it as a potential hate crime.
Just last month in Colleyville, four members of the Jewish community were taken hostage by a terrorist inside Congregation Beth Israel.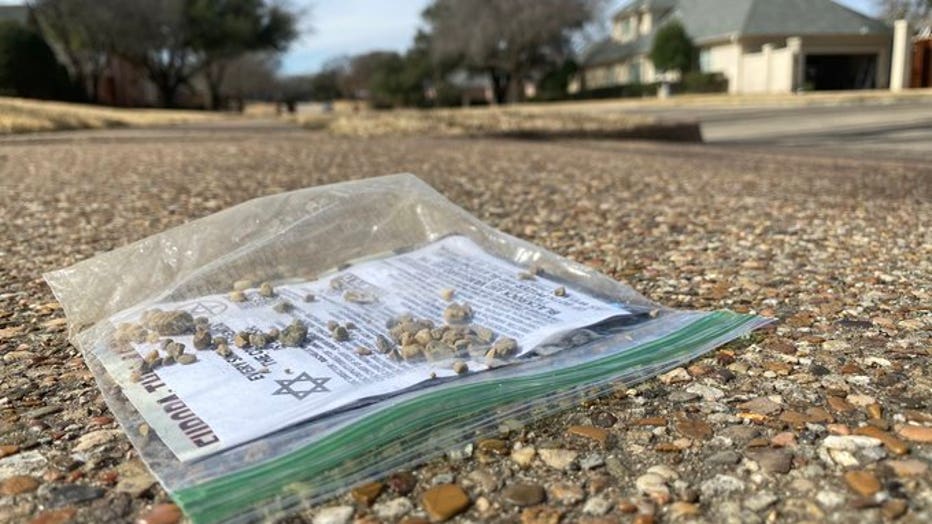 RELATED: Colleyville synagogue hostage crisis was a hate crime and act of terrorism, FBI says
Skyler Ray found similar flyers near his Garland neighborhood Saturday.
"Like, every single driveway," he recalled. "Nobody should have to wake up and see something like that on their front lawn." 
Ray has Jewish family members.
"I'm a little scared for them," he added. "It's just hateful."
He called Garland police and they're investigating.
Similar flyers are showing up across the country, in cities like Denver, Miami, and San Francisco.
The FBI said it's working with local law enforcement to see if any federal crime has been committed. 
"I'm really sad for the Jewish community that they keep having to deal with this stuff," Ray said.
People hope police can determine who is responsible, and they're hoping change can follow.
"I'm actually really glad that the issue has been brought up because it's unacceptable," Boone said.
Anyone with additional information on these flyers or who is distributing them is asked to call Colleyville police at 817-743-4522.