Suspect identified in deadly officer-involved shooting in southeast Austin
AUSTIN, Texas - The Austin Police Department says five officers have been placed on administrative leave due to their involvement in a deadly officer-involved shooting in southeast Austin.
The incident happened at the Belara Austin Apartments located in the 1500 block of Crossing Place near Pleasant Valley Road and East Riverside Drive.
APD said they received a call regarding a man with a gun in the area. The caller identified himself as Robert Hammitt, 48, and stated a man was pointing a gun at him.
Police said Hammitt provided additional details saying a man wearing tan clothing was holding a rifle inside a black Ford F-150 truck at 1500 Crossing Place.
Multiple officers arrived and located a man and a truck that matched the description in the 9-1-1 call. The man in the Ford F-150 truck was later positively identified as Hammitt.
"At 5:11 they did locate a vehicle that matched the description with an occupant inside the vehicle. Officers cautiously began approaching the vehicle knowing the nature of the call and then the truck door on the driver side opened and they could see there was a person sitting in the vehicle," said Chief Joseph Chacon, Austin Police Department.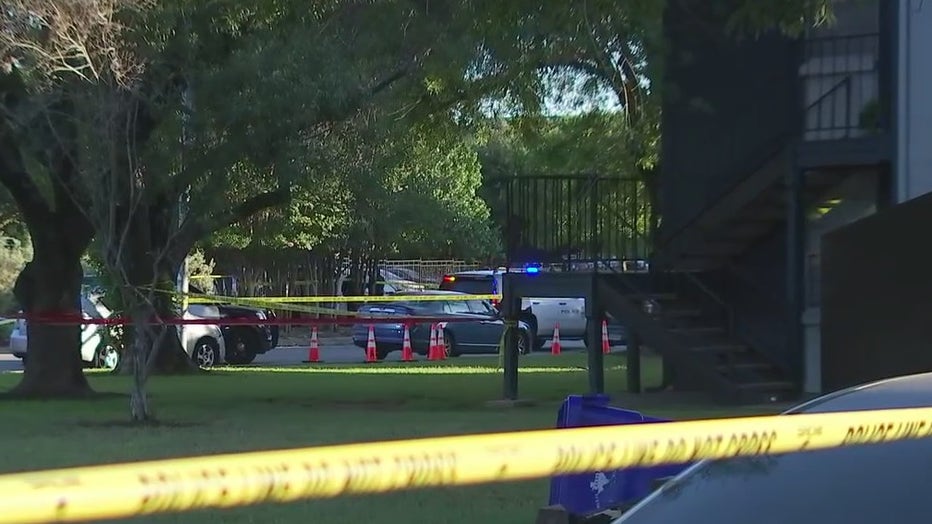 Officers arrived and located the vehicle. That's when APD said Hammitt opened the door and started shooting at officers.
Officers yelled for Hammitt to get out and show his hands. Chacon said Hammitt was sitting in a pickup truck. When he opened the door, he started shooting.
"The officers scrambled for cover, and returned fire into the vehicle," said Chacon.
The officers returned fire and continued to give out orders for Hammitt to exit the vehicle. He did not comply and APD says officers approached the vehicle to get the Hammitt to exit.
Hammitt was hit and life-saving measures were conducted by police and Austin-Travis County EMS, but the suspect died at the scene at 5:37 a.m.
The chief was noticeably disturbed by the continuation of gun violence.
"It is an epidemic, we've been seeing more and more of it. This is the second time in weeks that we have had officers that as they are arriving on scene, they are encountering gunfire coming directly from individuals," said Chacon.
Officials say no officers were injured and that the incident was caught on body cam.
"It's really sad that in this area it's not unusual and it's sad we have to live like that," said Nayla Borrell, who lives in the neighborhood.
Crossing Place was blocked for some time, impeding Borrell's commute home. She said the community is reeling from the news.
"This area being mostly students, we are all freaking out. We have a group chat where we share experiences and everyone is super scared that this is going on," said Borrell.
Borrell feels a heavier police presence in the area could deter some crimes.
"I feel like we need more police officers in the area so it'll prevent this kind of thing from happening," she said.
The five officers involved are two probationary officers, one has 7.5 years of service, one has five years of service, and one has 4.5 years of service. They were all placed on administrative leave, which is protocol for officer-involved shootings.
There will be an internal affairs investigation and a separate criminal investigation conducted by the Travis County District Attorney's Office.
Chacon said the incident was captured on body camera footage, which will be release in ten working days. If you know anything or have knowledge that can contribute to the investigation, call 512-472-TIPS.