President Trump visiting Apple's Austin manufacturing facility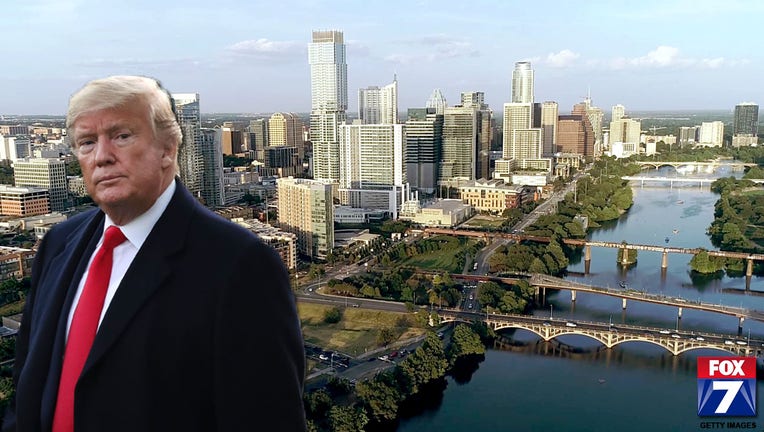 AUSTIN, Texas - President Donald Trump wass in the Lone Star State to get an up close up look at Apple's new high profile computers when he visits the company's manufacturing facility in Northwest Austin.
MOBILE USERS: WATCH TRUMP SPEAK AT THE FACILITY HERE
Trump landed at Austin-Bergstrom International Airport at around 1:15 p.m. and he's expected to be in Austin for a few hours before leaving later this evening.
According to White House officials, this trip gives Trump the chance to see Apple's expansion which was announced late last year. The massive expansion is said to make Apple the largest private employer in Austin.
Apple's newest campus, which is located less than a mile from existing facilities, will have the capacity to expand to around 15,000 employees.
MOBILE USERS: WATCH TRUMP TOUR THE FACILITY HERE
In September, Apple announced it would manufacture its latest line of Mac Pro computers in Austin instead of China. The computer is expected to come out later this year and be priced at just under $6,000.
Trump is expected to be joined by Apple CEO Tim Cook as well as Treasury Secretary Steven Mnuchin, daughter Ivanka Trump and son-in-law Jared Kushner.
MOBILE USERS: WATCH PRESIDENT DONALD TRUMP'S ARRIVAL HERE
While on tour, the group will hear from Apple employees about how the products are assembled at the Austin facility.
Cook will also reportedly be looking to talk about the trade war with China and its effects on the company.
This is the president's second trip to Texas since the impeachment investigation began. He visited Dallas for a re-election rally in October.
While President Trump is visiting the facility, a Say No to Trump in Austin demonstration and a Travis GOP counter rally will be held outside.
---
RELATED