Rebellious Democrats disrupt House, stage protest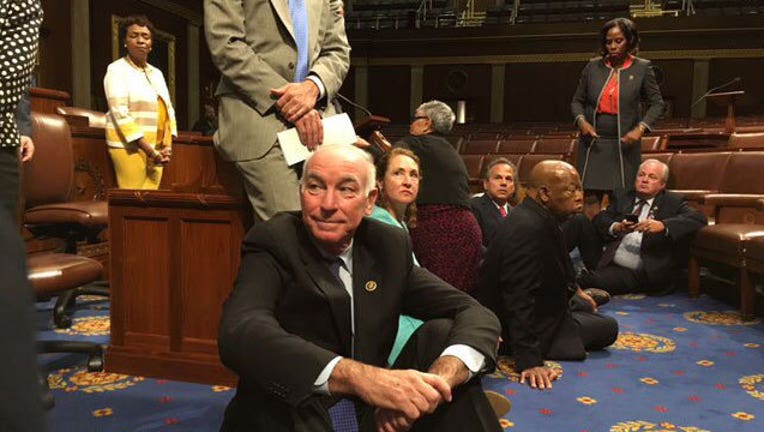 article
WASHINGTON (AP) — Rebellious Democrats disrupted the House's legislative work on Wednesday, staging a sit-in on the House floor and refusing to leave until they secured a vote on gun control measures. Exasperated Republicans were forced to recess while cutting off cameras that showed the protest.
Nearly 100 Democrats led by Georgia Rep. John Lewis demanded a vote on measures to expand background checks and block gun purchases by some suspected terrorists in the aftermath of last week's massacre in Orlando, Florida, that killed 49 people in a gay nightclub. It was the worst shooting in modern U.S. history.
"No bill, no break," shouted Democrats, who demanded that Speaker Paul Ryan, R-Wis., keep the House in session through its planned weeklong recess next week to debate and vote on gun legislation.
Democrats accused Republicans of political cowardice by failing to schedule a vote.
"Are they more afraid than the children at Sandy Hook?" asked Rep. Mike Thompson, D-Calif., referring to the 2012 shooting that killed 26 people, including 20 elementary school children, in Newtown, Connecticut. "What is so scary about having a vote?"
Lewis, a veteran civil rights leader revered by Democrats, said action on gun violence is long overdue.
"We have lost hundreds and thousands of innocent people to gun violence," Lewis said as he urged fellow Democrats to stand with him in the area near the podium, known as the well.
About 30 minutes after the sit-in began, Rep. Ted Poe, R-Texas, tried to start the House's work at noon. The customary prayer and pledge of allegiance went ahead, but Poe was forced to recess the House when dozens of Democrats refused to leave the well.
Although the cameras were turned off, lawmakers relied on social media to transmit photos and video of their protest, using Facebook, Twitter and Periscope.
Rep. John Larson, D-Conn., said lawmakers were "calling for the simple dignity of a vote." Joining the protest were at least six Democratic senators, including Sen. Chris Murphy, D-Conn., who had waged a nearly 15-hour filibuster last week to force votes in the Senate on gun legislation. Those votes failed on Monday night.
Ryan said Wednesday that House leaders were "waiting to see what the Senate does before proceeding" on gun legislation, including a possible compromise being sought by Republican Sen. Susan Collins of Maine.
Larson and other Democrats cited polls showing broad public support for expanding background checks for firearms purchases and blocking suspected terrorists from buying guns.
"Rise up Democrats, rise up Americans," Larson said. "We will occupy this chamber."
Among those protesting on the House floor was Rep. Tammy Duckworth, D-Ill., an Iraq war veteran who lost both her legs in combat. She got out of a wheelchair and sat on the House floor with other lawmakers.
House Minority Leader Nancy Pelosi, D-Calif., said the House needs to act on gun legislation, rather than continually hold moments of silence in memory of victims of gun violence.
"We truly believe that if there were a vote that we would win the vote, because 85 to 90 percent of the American people ... support responsible background checks legislation, which is bipartisan, and the 'no-fly, no-buy' legislation, which is bipartisan," Pelosi said.
White House press secretary Josh Earnest said House Democrats were "showing the kind of frustration and even anger that people around the country have about the inability of the Republican-led Congress to take common-sense steps that would protect the American people."
C-SPAN, a cable network that provides continual coverage of House and Senate floor proceedings, does not control the cameras. They're run on authorization by legislative leaders.
"They can turn off all the TV they want, but they can't stop us from doing what we know is the right thing here in this well," Larson said of GOP leaders.
"I am willing to stay here until hell freezes over," added Rep. Maxine Waters, D-Calif.
As the protest continued, lawmakers briefly sang "We Shall Not Be Moved."
___
Associated Press writers Mary Clare Jalonick, Andrew Taylor and Darlene Superville contributed to this report.