Record online discounts this holiday season expected to drive spending
Online shopping is expected to generate single-digit year-over-year sales growth this holiday season with consumers coming across discounts at "record highs," Adobe Analytics forecasted Thursday. 
The company estimated the total for online shopping sales over the course of the upcoming holiday season would come in at $221.8 billion. That spending will happen over the two-month period spanning Nov. 1 to Dec. 31. 
Retailers saw $211.6 billion worth of online holiday sales from consumers last year, according to Adobe. Compared to that, this year's projection will mark a 4.8% lift. 
During the holiday shopping season, consumers are expected to encounter deals slashing up to 35% off the prices of some products, per Adobe. 
US CONSUMER CONFIDENCE DROPS FOR SECOND STRAIGHT MONTH, RECESSION FEARS RISE
According to the company's forecast, Cyber Week, which runs from Thanksgiving through Cyber Monday, will hold the largest of those. Other offers will kick off earlier in the second week of October, when discounts could potentially reach 18%.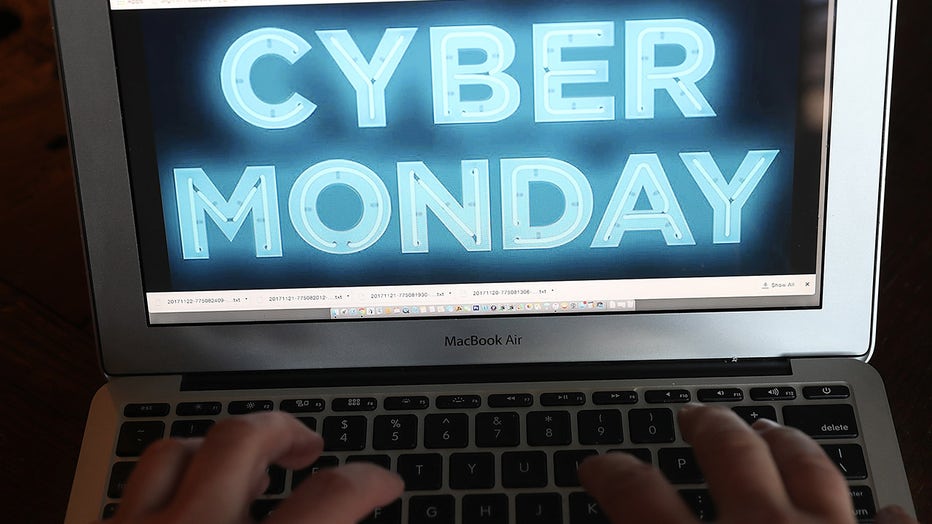 In this photo illustration, a Cyber Monday ad is displayed on a laptop computer on November 27, 2017 in San Anselmo, California. Cyber Monday will likely be the biggest shopping day in U.S. e-commerce history with an expected $6.6 billion in sales. (
Adobe identified toys, electronics and apparel as the categories that retailers will discount the most this season, projecting discounts of up to 35%, 30% and 25%, respectively.
The upcoming holiday season's anticipated big discounts come as "retailers contend with an uncertain spending environment and consumers who continue to deal with rising costs in areas such as food and gas," Adobe said. 
Food at home experienced an increase in prices of 0.2% month-over-month and 3% year-over-year in August, according to the latest Bureau of Labor Statistics data for the Consumer Price Index. 
AUGUST INFLATION BREAKDOWN: WHERE ARE PRICES RISING AND FALLING THE FASTEST?
Gasoline, meanwhile, jumped 10.6% from the prior month while falling 3.3% compared to a year ago. AAA pegged a gallon of regular unleaded gas as costing $3.768 on average as of Thursday afternoon. 
Adobe said Thanksgiving, Black Friday and Cyber Monday will "remain important anchor points for the season" due to the forecasted deals.
Of those three days, Cyber Monday is expected to bring the most online holiday spending, with Adobe projecting it will rise 6.1% year-over-year to $12 billion. 
Online shoppers are expected to pay $9.6 billion on Black Friday and $5.6 billion on Thanksgiving, according to the company. Both will mean increases – 5.7% for the former and 5.5% for the latter – from last year.
Collectively, Cyber Week online holiday sales will amount to an expected $37.2 billion, according to the company. 
"Despite an unpredictable economic environment, where consumers face several challenges, including rising interest rates, we expect strong e-commerce growth this season on account of record discounts and flexible payment methods," Patrick Brown, Adobe vice president of growth marketing, said in a statement.
UBER ENTERS BUSINESS OF PACKAGE RETURNS AHEAD OF HOLIDAY SEASON
Roughly $17 billion worth of projected online holiday sales will come from Buy Now, Pay Later, a method that has gained popularity, Adobe also noted. 
Over half of the projected $221.8 billion in total online spending is expected to come from electronics ($49.9 billion), apparel ($41 billion), furniture and home goods ($26.6 billion), groceries ($18.9 billion) and toys ($7.8 billion), per the forecast. Similarly, the share of overall sales involving mobile shopping during the season is expected to be 51.2%.
Adobe puts out the online holiday sales projection on a yearly basis.