Brooklyn subway shooting: Dozens hurt, shooter at large
NEW YORK - The NYPD has identified a man that detectives are looking for who may be connected to the mass shooting that unfolded on a crowded subway train in Sunset Park, Brooklyn, at the height of the morning rush hour on Tuesday. 
The man's name is Frank James, 62, said Chief of Detectives James Essig, who called him a "person of interest" in connection with the case. 
At about 8:24 a.m., a man aboard a northbound N train tossed two smoke bombs onto the floor, and opened fire inside the train as it approached the 36th Street station, Essig said. The gunman fired at least 33 times, striking 10 people. 
"He is heavyset, wearing an orange green nylon type construction vest," Essig said of the gunman. "He also had on a gray hoodie, a surgical mask, and a neon green construction helmet."
Five gunshot victims are in critical but stable condition. 
More than a dozen other people were hurt in the subsequent chaos. Some other victims suffered smoke inhalation, injuries from falling, and panic attacks, Essig said.
Citing a law enforcement source, the Associated Press reported that police believe the gunman's pistol jammed, preventing him from firing more shots.
Officers investigating the scene recovered a Glock 17 9mm semiautomatic pistol, three extended-capacity magazines, two detonated smoke grenades, two non-detonated smoke grenades, a hatchet, a container of gasoline, a backpack, a garbage can, a rolling crate cart, consumer-grade fireworks, a fuse, and a key to a U-Haul rental van, top police officials said.
That van was rented in Philadelphia, Essig said, and detectives believe it could be linked to the shooting. Police said the U-Haul van was found parked on Kings Highway Tuesday evening. Police shut down the street and are processing the van for evidence, Essig said. 
"The male who we believe is the renter of this U-Haul in Philadelphia is a Frank R. James male, 62 years old with addresses in Wisconsin and Philadelphia," Essig said. "We are endeavoring to locate him to determine his connection to the subway shooting, if any."
PHOTOS: BROOKLYN SUBWAY SHOOTING
Police Commissioner Keechant Sewell said the shooting doesn't appear to be related to terrorism but the NYPD isn't ruling anything out.
"We still do not know the suspect's motivation. Clearly, this individual boarded the train and was intent on violence," Sewell said. "We are conducting a highly coordinated investigation that includes NYPD detectives, the FBI-NYPD Joint Terrorism Task Force, and the ATF who have been instrumental in tracing the firearm and ballistics."
Get breaking news alerts in the free FOX5NY News app!  |  Sign up for FOX 5 email newsletters
NYC Subway Shooting Investigation
It was not clear which way the gunman fled but Essig said detectives believe he boarded the train at Kings Highway.
Witnesses described a chaotic, bloody scene as the injured were brought to the street level and bystanders ran from the area. 
RELATED: Brooklyn subway shooting: Man on train during shooting describes a frightening scene
A massive emergency response remained hours later. Police officers armed with long guns, SWAT teams, and bomb squads were all on the scene. Unexploded devices discovered at the station did not pose a threat, added police.
The NYPD closed 4th Avenue. A heavy police presence was also seen at 27th Street. It was not clear why police were in that area.
VIDEO: DRAMATIC SCENE FROM SUBWAY PLATFORM
Photos and videos on social media show a man covered in blood lying on the platform and people running from the station trying to escape above ground. Several victims appear to have sustained injuries to the lower extremities.
At least 20 victims were taken to NYU Langone Medical Center. Maimonides was treating five people, ages 12, 13, 15, 16, and 18. Methodist had three patients. All were in stable condition.
U-Haul Van Located; Connected to Subway Shooting?
U-Haul released a statement to FOX News Digital on the search for one of its vans in connection with the case. It stated: "Law enforcement has alerted us to its search for a rental van and its possible connection to a suspect in today's incident in New York City. We are working closely with authorities to ensure they have any and all available information to meet their needs." 
The van was found parked on Kings Highway Tuesday evening. Police had shut down the street near the van as they investigated. 
RELATED: BROOKLYN SUBWAY SHOOTING: WHAT'S KNOWN ABOUT THE VICTIMS?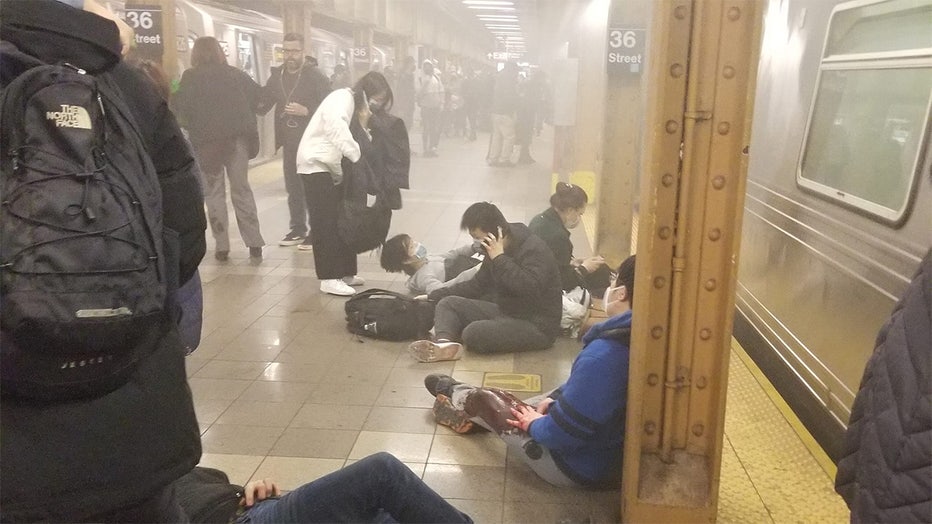 Victims are seen on the subway platform after a shooting in a Brooklyn subway station. (Armen Armenian/Facebook)
Brooklyn Shooting Suspect
The gunman was described as a heavyset Black man wearing a surgical mask, a green construction vest, and a gray sweatshirt, and carrying a construction bag. Witnesses' accounts of the gunman's height varied. 
Police are asking anyone with information including photos or videos of the suspect and the incident to contact the NYPD Crime Stoppers at any of the following: at 800-577-TIPS (8477), the Crime Stoppers website on Twitter @NYPDTips.
"This person is dangerous. They are asking individuals to be very vigilant and alert," Gov. Kathy Hochul said during a briefing at the scene. 
RELATED: BROOKLYN SUBWAY SHOOTING: WHAT WE KNOW ABOUT THE SUSPECT
Schools in the area were on lock-down for a period of time and a shelter-in-place order was in effect for all schools within a mile of the scene. 
"We know this incident is of grave concern to New Yorkers. We cannot lose sight of victims in this city," Sewell said. "We will use every resource we can to bring those to justice who continue to prey on the citizens of New York."
A $50,000 reward is offered for information about the shooting that leads law enforcement to the perpetrator.
Subway Disruptions
D, N, and R service was fully restored Wednesday after major disruptions a day earlier. Police had told pedestrians told to avoid the area of 3rd Avenue to 5th Avenue from 20th Street to 40th Street in Brooklyn. Delays were significant.
City, State Officials, White House Respond
At an appearance in Iowa on Tuesday afternoon, President Joe Biden briefly addressed the shooting. 
"Jill and I are praying for those who are injured, all those touched by that trauma, and we're grateful for all of the first responders who jumped in action, including civilians — civilians who didn't hesitate to help their fellow passengers and try to shield them," Biden said. "My team has been in touch with Mayor Adams and New York's police commissioner. And the Department of Justice and the FBI are working closely with the NYPD on the ground."
The city has activated the Unified Victim Identification System. If you are concerned about the welfare of someone who may have been affected by the attack and are unable to contact them, please call 311. From outside of NYC, you may call 212-639-9675.
Mayor Eric Adams, who did not attend the media briefing due to a COVID diagnosis, issued a video statement.
"Today's incident, as of now, we have not found any live explosive devices," said Adams.
"While much remains unclear and the situation is ongoing, we know that New Yorkers were terrorized this morning as their daily lives were struck by violence and fear," said NYC Public Advocate Jumaane Williams. "I pray for everyone injured in this tragedy, for the people who witnessed this attack, and for the entire community and city."
Statement by Union for Subway Workers
Transport Workers Union Local 100 President Tony Utano called the shooting a "shocking and horrible burst of violence." 
"At this time, it appears that no members were physically hurt. Our hearts and prayers are with the victims and their families," Utano said. "This latest emergency illustrates again why we need Station Agents, and fully staffed trains with both a Conductor and a Train Operator on board, to assist with evacuations and communications."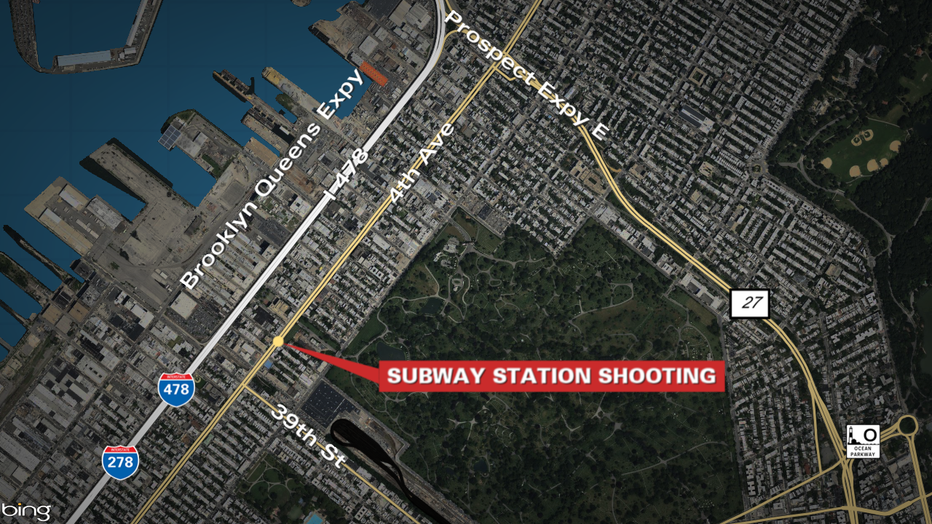 The Sunset Park subway station at 36th Street was the scene of a shooting and explosion on April 12, 2022.