Restaurants offering takeout and delivery specials for Easter meals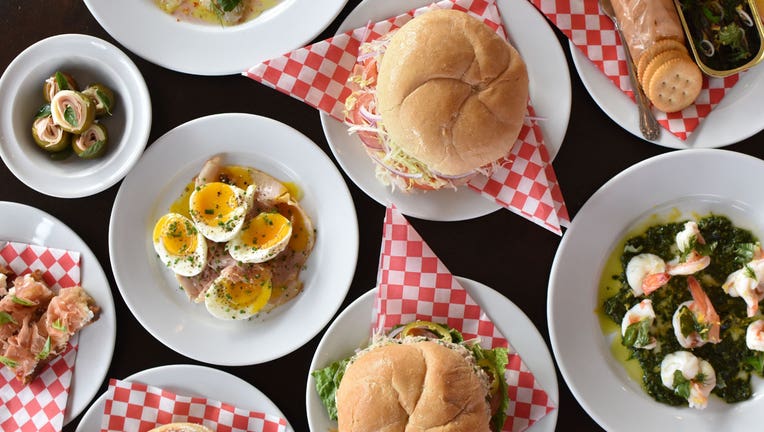 article
AUSTIN, Texas - Easter celebrations will be a lot different for most families this year as everyone continues to practice social distancing and follows stay-at-home orders. However, that doesn't mean that you can't still have a special meal.
RELATED: Local restaurants offer delivery, curbside & takeout service after restaurants and bars shut down
Several local restaurants have special offerings for the holiday if you're looking to have a traditional dinner.
Here's a list of some options. This list is not comprehensive and will be updated but you should contact your favorite restaurant to see if they're offering anything special for Easter.
RELATED: How you can help service industry workers furloughed or laid off due to coronavirus
__
Cafe Blue at Hill Country Galleria
The Easter Family Dinner deal that feeds four people and costs $99.95 is being offered. Guests can order online or by calling 512-366-5230. Orders and payments must be received by April 10 at 3 p.m. Curbside pick up only.
The dinner includes:
Appetizer: Crab stuffed mushrooms
Salad: Mixed greens, orange, toasted almonds, goat cheese, raspberry vinaigrette
Entrees: Ancho-brown sugar glazed ham with creole honey mustard and lemon-parmesan baked salmon with creamy lemon horseradish
Sides: Garlic whipped mashed potatoes, creamed spinach, sauteed green beans
Dessert: Key lime pie
Wine features (add on): Ruffino Sparkling Rose ($28), Stag's Leap Winery Chardonnay ($36), Chateau Ste. Michelle Syrah ($33), Mt. Veeder Cabernet Sauvignon ($58)
Juniper
The new takeout and delivery menu is being offered and available daily from 11 a.m. to 9 p.m. Orders can be placed online or by calling 512-220-9421. You can also order for delivery on Favor. 
A good Easter option is a customizable family meal that serves four for $80. It includes a choice of one starter, a main entree/protein, two sides, and a dessert. 
First responders and medical professionals can receive 25% discount by using the code FIRSTAID and showing their ID at pick-up. 
Colleen's Kitchen at Aldrich Street
Offering an Easter Heat + Serve all-day brunch for $125. You can order online and pick-up is on Saturday, April 11 or delivery via Favor. The menu includes the following:
Tenderbelly Applewood Smoked Half Ham (approx 4.5lbs): Brown Sugar Glazed Ham
Easter Strata Casserole: Egg, Sausage, Cherry Tomato, Asparagus, Pimento, Mozzarella, Parmesan, Fresh Herbs
(4) Buttermilk Biscuits: Wild Orange Butter, Tomato Jam
Haricot Verts
Mac + Cheese
Pound Cake: Fresh Strawberries, Chantilly Cream
 Add ons available include Buttermilk Biscuits, Salted Chocolate Chip Cookies and Buttermilk Mashers
Halycon Coffee at Aldrich Street
An Easter Dinner and an Easter Brunch are being offered. You can order online and it's available for pick-up or delivery for a fee of $5.
Easter Dinner must be pre-ordered by April 9 and includes:
Turkey Dinner Menu (feeds 2-4 people): Herb Roasted Turkey (gravy included), Halcyon Mac N Cheese, Broccoli Casserole, House Salad, Sweet Cheddar Cheese Cornbread. Ask for the Nitro Package and you get a bottle of Champagne and Orange Juice for Mimosas.
Easter Brunch Menu (feeds 2 people) is available all day and you call 512-400-0445. It includes:
Chicken and Waffles: waffles topped with Buttermilk Ranch Battered Chicken Breast with 2 slices of Texas Smoked Hickory Bacon and Regular or Bourbon Syrup. Ask for the Nitro Package and you get a bottle of Champagne and Orange Juice for Mimosas
Mama Fu's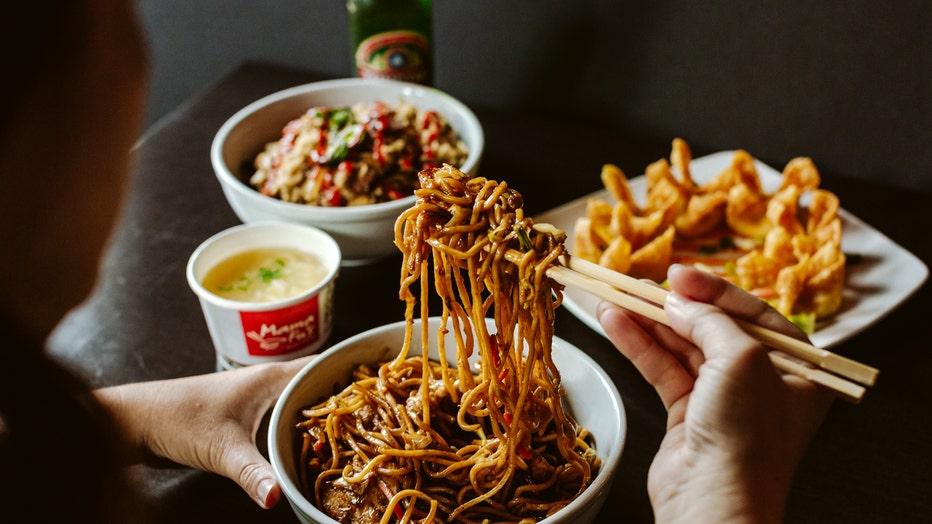 (Cassandra Klepac Photography)
Offering Easter Family Packs for delivery for pickup that serve four people and include one choice of entree, soup, and a large starter. Call in to your nearest location to order. 20% off orders for all healthcare workers, first responders and military. Kids eat free all day, every day with the purchase of an adult entree. Get more details and location information on the restaurant's website.
Bakery Lorraine
Offering signature Easter treats for pick up or delivery at all its Austin and San Antonio locations. Items include:
Chick Tart - $6
Bunny Tart - $6
Chocolate Nest Tart - $6
Egg Shaped Moonpies - $4
 Bakery Lorraine will also be offering a special Easter themed meal for pick up or delivery, available in sizes for 2 or 4 people. All Easter treats and meals will only be available Friday- Sunday of Easter weekend. Limited supplies each day. Customers can also preorder through Bakery Lorraine's website under the "Custom Orders" tab.
Tony C's at Hill Country Galleria + Avery Ranch
Offering to-go and delivery daily from 11:30 a.m. to 8 p.m. and the restaurant is accepting pre-orders through April 10 until 8 p.m. The meal feeds four to six people and includes:
 Antipasto Tray
House or Caesar Salad 
8 Garlic Knots 
½ Pan Take and Bake Lasagna
Italian Cream Cake
The League Kitchen & Tavern
Offering to-go and delivery daily from 11:30 a.m. to 8 p.m. and accepting pre-orders through April 10 until 8 p.m. Its meal feeds four to six people and includes:
Salad with choice of dressing
Biscuits
Prime rib dinner, served with au jus and horseradish sour cream
Mashed potatoes with jalapeno gravy
Green beans
Uncle Nicky's
Takeout and delivery available daily from 8 a.m. to 8 p.m. You can order online or by calling 512-222-8369. You can also order delivery via Favor. Full menu, plus pints of gelato, is available for purchase.
CLICK HERE FOR THE LATEST INFO ON THE CORONAVIRUS OUTBREAK
---
FOX 7 Austin is working to keep you up to date with coronavirus, with both local and national developments. Every weekday we're live at 1 p.m. with a special show reporting the latest news, prevention tips and treatment information.
You can watch live in your FOX 7 Austin app or on the FOX 7 Austin Facebook page.
You can also get the latest COVID-19 news from around the country at coronavirusnow.com.