Stay Weather Aware: Severe Storms Possible Tuesday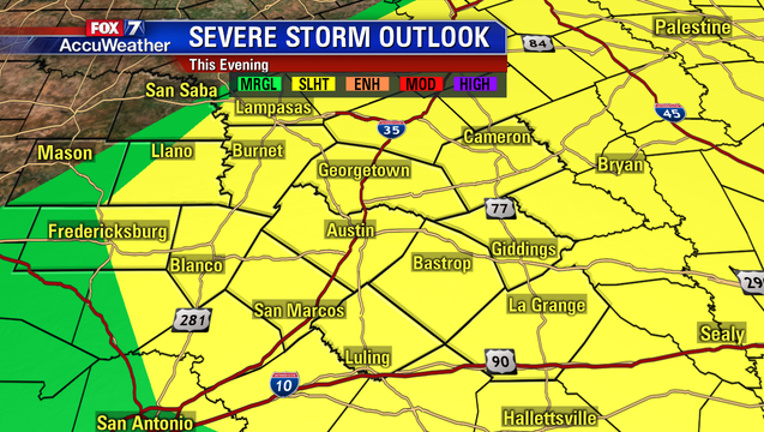 article
Ingredients are coming together for a stormy afternoon and evening across Central Texas. Some storms, especially any that form along and east of I-35, could be severe. 
During much of the day Tuesday a "cap", or a layer of stable air aloft, will keep too many storms from forming. Through the afternoon, we'll see an upper level disturbance drift in from the southwest.  This disturbance will help to erode the cap, making it easier for showers and thunderstorms to form. 
Storm chances rise tonight as a cold front moves in from the northwest. Showers and thunderstorms will become more widespread as this cooler air interacts with the warm, moist air in place around the area. 
While a severe weather outbreak isn't expected this evening, any storm that does become severe has the potential to produce wind gusts in excess of 60 mph and large hail. Abundant lightning and heavier pockets of rain are also possible. 
A Severe Thunderstorm Watch has already been issued for Lampasas, Llano, Burnet, Williamson, and Milam Counties until 6 p.m. More counties could be included in this list as the night goes on. 
As cooler, dry air filters in behind the cold front, the rain faucet will shut off. Storm chances should wind down for most of the area by midnight. 
Stay with FOX 7 Austin for weather updates on-air and on social media!