Stevie Ray Vaughan statue has a bandana mask
AUSTIN, Texas - Someone apparently wanted to make sure that the Stevie Ray Vaughan statue at Auditorium Shores was protected from the coronavirus.
A bandana has been placed on the statue although it's not exactly clear if it was placed before or after officials announced that they would require the public in Travis County to wear a face covering when conducting essential work or activities.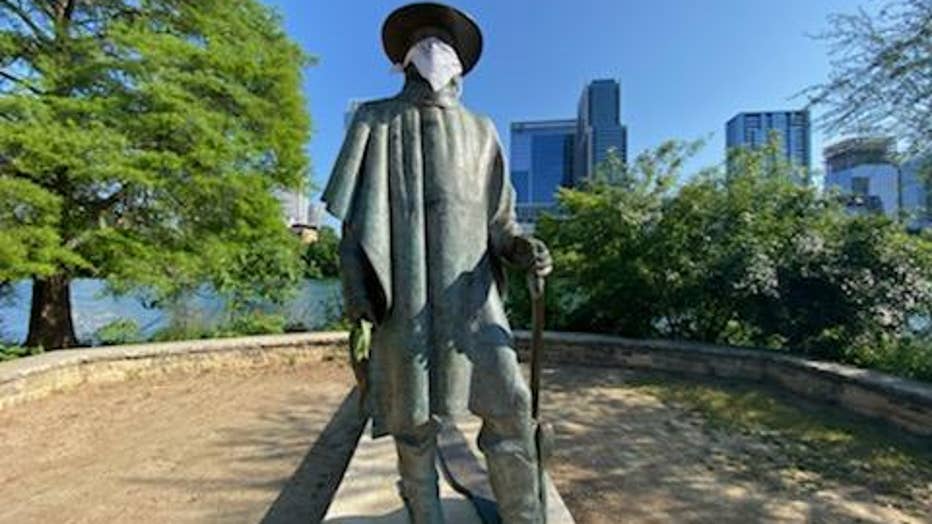 DOWNLOAD THE FOX 7 AUSTIN NEWS APP FOR YOUR MOBILE DEVICE
Perhaps whoever placed the bandana on the statue was inspired by Matthew McConaughey. McConaughey made a tutorial video as "Bobby Bandito" to show people how to make a mask with a bandana, a coffee filter and some rubber bands.
The new face-covering rule requires that everyone over the age of ten wear a face covering over their nose and mouth when in a public building, using public transportation or ride shares, pumping gas and while outside when six feet of physical distancing cannot be consistently maintained, according to Austin Public Health.
A face covering is not required when eating, riding in a personal vehicle, alone in a separate single space, or in the presence of other members of your residence. Additionally, a face covering is not required when wearing one poses a greater mental or physical health, safety or security risk such as anyone who has trouble breathing, or is unconscious, incapacitated or otherwise unable to remove the cover without assistance. 
RELATED: How to use and remove gloves, masks safely
It's the not first time that someone wanted to make sure the statue was taken care of. Back in October 2018, when there was the possibility of flooding in the area, someone placed a life jacket on the statue.
CLICK HERE FOR THE LATEST INFO ON THE CORONAVIRUS OUTBREAK
__
FOX 7 Austin is working to keep you up to date with coronavirus, with both local and national developments. Every weekday we're live at 12 p.m. with a special show reporting the latest news, prevention tips and treatment information.
You can watch live in your FOX 7 Austin app or on the FOX 7 Austin Facebook page.
You can also get the latest COVID-19 news from around the country at coronavirusnow.com.