Still no arrests after fatal shooting at Texas dance studio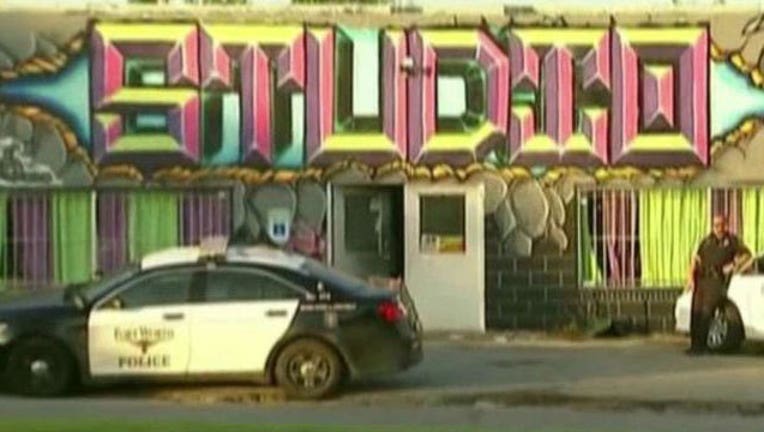 article
FORT WORTH, Texas (AP) — Police still hadn't made any arrests Sunday in connection with the suspected gang-related shootings that left two people dead and several injured during an unauthorized party at a hip-hop dance studio in Texas.
The Tarrant County medical examiner's office identified those killed as 18-year-old Jordan Larkin and 22-year-old Treavon Lewis. At least five others were injured in the shootings early Saturday at Studio 74 in Fort Worth, and their conditions were unknown.
Officer Daniel Segura, a Fort Worth police spokesman, said detectives are working nonstop on the case but hadn't made any arrests. A day earlier, police said arrests were imminent.
After the shootings, blood stained the outside of Studio 74 and broken glass from a trophy case covered the floor. Witnesses told police the gunfire began when a man ran toward the door to exit the studio. Officers found one victim dead outside the building, and several people were transported to hospitals — one of whom died from his injuries, police said.
The violence broke out at a place that owner Laura Reyna described as a community "safe haven" from the streets.
"It's a nonprofit organization. We deal in hip-hop culture and we cater to our community. It's a safe haven ... we dance, we compete. We try to stay away from events like this that happen," Reyna said.
Studio 74's website says the facility brings "dance programming to underserved communities and the general public to reach audiences and participants of all ages, abilities, ethnicities, and socio-economic backgrounds."
An employee of the facility, Jason Moore, was working at the time and said he used a towel to compress the chest of one of the victims, who later died right outside the front door of the studio.
"He got hit in the lungs, so there was no coming back for him," Moore said.
Moore said several members of the group were carrying guns and that he thought he heard shots fired inside as well. Reyna said the group wasn't supposed to be at the facility but Moore was unaware of that.
The Fort Worth Star-Telegram reported that Larkin graduated in May from North Crowley High School in Fort Worth.
Rex Russell, whose wife, Jeanene Young Russell, was one of Larkin's high school teachers, told the newspaper that the teen was a "great kid." He said Larkin, who hoped to join the military, spent a lot of time with him and his wife, including spending last Christmas with them.
He said Larkin came from a "pretty rough background" but "had his life going in the right direction."