Suspect in South Congress fatal stabbing dies
AUSTIN, Texas - The suspect in Friday's fatal stabbing at a burrito shop in South Austin has died.
27-year-old Dylan Woodburn has been identified by Austin police as the man who stabbed two employees at Freebirds World Burrito. After the attack, police said Woodburn jumped off the roof of the business, eventually leading to his death.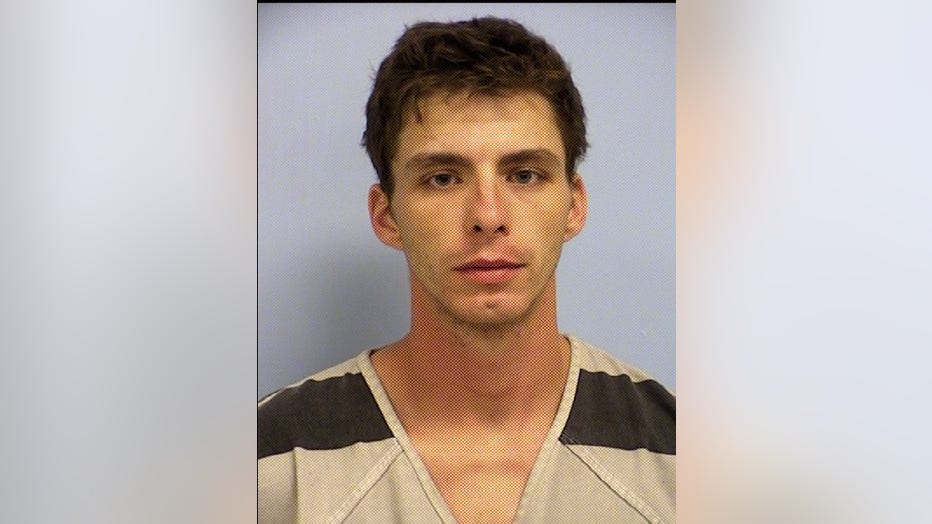 A previous booking photo of Dylan Woodburn (Austin Police Department)
RELATED: APD: Man assaults patron at South Congress coffee shop, stabs 2 restaurant employees before jumping off roof
Police believe 34-year-old Johnathon Aguilar, who died at the scene as well as one of his coworkers and a customer at Bennu Coffee, were attacked by Woodburn completely randomly. 
"Our hearts are with you and with our community as we go through this tragic event," Austin Police Chief Brian Manley said to the victims and their families during a press briefing Monday. 
Austin police said they received a call reporting a man with a large rock was verbally threatening people at Bennu Coffee on Congress around 7:50 a.m. When an officer arrived, about twenty minutes later, the suspect was being held down by customers inside.
RELATED: Fatal stabbing on S. Congress sparks homeless policy debate among state and city leaders
As the responding officer tried to handcuff the suspect, something went wrong. 
"What we know from looking at the video, at this point, is that the officers' duty belt comes loose at this point and the officer can be seen having to place his handcuffs down and, with both hands, regain control of his duty belt and put that back on. It's at this time that the suspect gets up and flees from the coffee shop," Manley said. 
For several minutes that officer and other officers in the area searched for the suspect now identified as Woodburn. 
While they were searching, police said Woodburn stabbed two employees at a nearby Freebirds World Burrito. 
RELATED: Family and friends remember victim of S. Congress fatal stabbing
"It's still an open investigation, but everything we're seeing right now shows that he definitely got that knife from inside the Freebirds. We don't believe he brought it with him," said Homicide Det. Jeff Greenwalt. 
"We ultimately located that suspect on top of the establishment and, a short time later, he jumped. And, as was reported earlier, has succumbed to his injuries as a result of him jumping off of that roof," Manley said. 
RELATED: Suspect in custody following stabbing incident that left one dead, multiple injured
The department is now looking into the circumstances that led to Woodburn's escape from police, including the reliability of officers' equipment. 
Police said Woodburn was not originally from Austin and was homeless at the time of the attack. He has criminal history for drug charges in Harris County and a burglary charge in Austin from September 2019. 
Anyone who may have information on a motive in the attack is asked to call Austin Police Department's homicide tip line at 512-477-3588. 
WATCH THE APD PRESS CONFERENCE BELOW: