Suspect ties up Sun City couple in their home, robs them at gunpoint
GEORGETOWN, Texas - The Georgetown Police Department is investigating a home invasion turned aggravated robbery in Sun City.
According to a release, a woman returned to her home on Whispering Wind Drive from the grocery store around 11:30 a.m. on November 20, and as she was putting away groceries, a man walked in through the garage, displayed a handgun and demanded jewelry.
The woman says the man bound her and her husband together, took several items of value and then fled the scene in a white Cadillac.
The suspect is described as a dark-skinned black man, approximately 6'1" with a long face, eyes set far apart and a slim build. He was wearing a black hooded sweatshirt and black pants.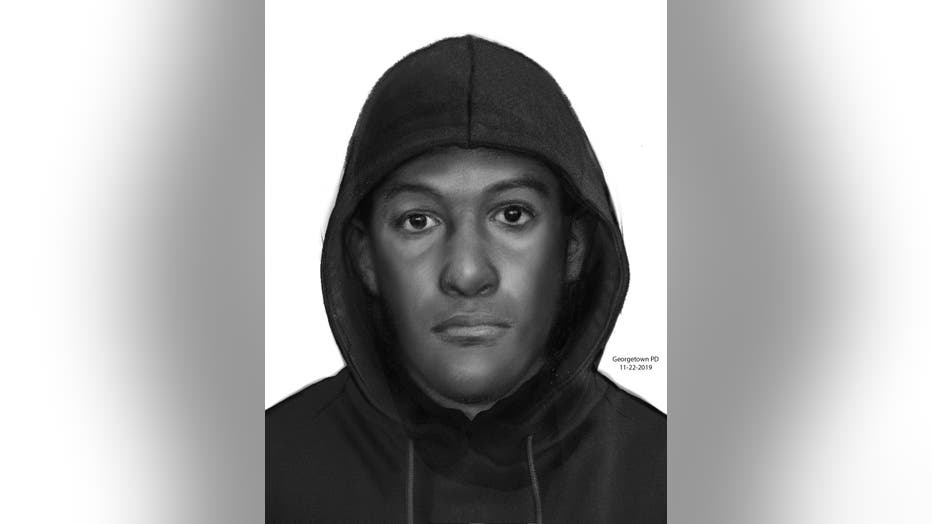 A composite sketch of a man Georgetown police say tied up a husband and wife and robbed them at gunpoint in Sun City Wednesday. (Georgetown Police Department)
Georgetown police are asking anyone with information or home security footage around that time that might contain information regarding this robbery to call Detective Kirby Shoemake through the Georgetown Police Tip Line at 512-930-2746.
GPD is also reminding the community to report any unusual activity immediately.