Texas ex-officer says shooting that killed teen justified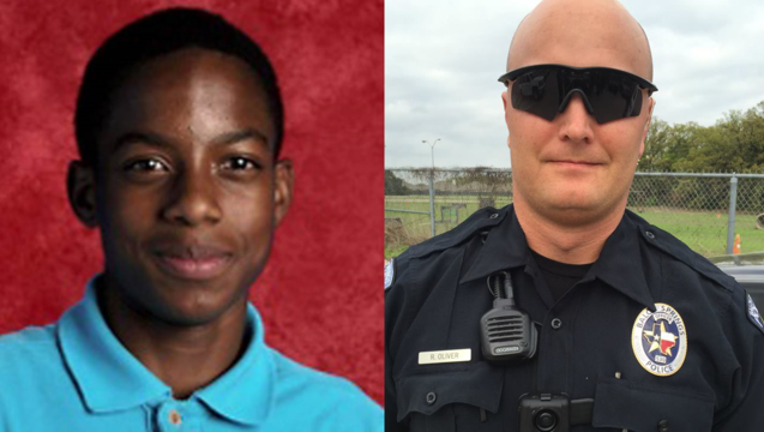 article
DALLAS (AP) - A white former suburban Dallas police officer who fired into a moving car carrying five black teenagers, killing one of them, says in a court filing that his actions were justified because he believed his partner's life was in danger.
Former Balch Springs officer Roy Oliver said in Tuesday's federal court filing that he and his partner were in fear for their lives in April when the car carrying the teens sped past them. Oliver contends he was startled when he heard breaking glass and believed his partner was under threat.
A message left with Oliver's attorney, Jim Lane, was not immediately returned Wednesday.
Oliver fired three to five times into the car and Jordan Edwards, 15, was mortally wounded. He also contends that gunshot residue was found on Edwards, who was identified in the filing by his initials.
Attorneys for Edwards' family say the gunshot residue came from Oliver when he contaminated the scene, and that any implication that the teen handled a weapon is false.
Oliver, 37, was fired in May for violating department policies, but police officials haven't specified which ones. A grand jury indicted him Monday on a murder charge and four counts of aggravated assault with a deadly weapon by a public servant related to the other four boys in the car.
Oliver, who was arrested on the murder charge less than a week after the shooting, turned himself in and is free on bond.
The shooting happened as the officers were responding to a report of drunken teens at a party. They had entered the home where the party was being held when the officers heard rapid gunfire outside. They ran outside to find cars leaving, including the one carrying Edwards. The driver of the sedan in which Edwards was a passenger disregarded several orders to stop, precipitating the shooting, Oliver said in court records, filed in response to a wrongful death lawsuit brought by Edwards' family.
Oliver maintains the use of force "was a reasonable response to a reasonable perception that the actions of the occupants of the black car under the totality of the circumstances created an immediate risk to another person of death or serious bodily injury."
He also asserts that others in the car acknowledged the driver should have heeded orders to stop.
Daryl Washington, an attorney representing Edwards' father, Odell Edwards, said there's been a pattern in cases across the U.S. of police officers producing reasons after a deadly shooting for why they were afraid.
"There was no gun in the car. My clients did not handle a gun," Washington said Wednesday. "Nor was there ever any mention during or after this incident that officer Oliver fired shots into that vehicle because he thought the guys were armed."
He said Oliver was making "meritless and unsupported allegations."
Lee Merritt, another attorney representing the Edwards family, said in an email that Oliver reached into the car to check Edwards' pulse after the shooting, which violated department policy by possibly contaminating the crime scene.
"The residue found on Jordan's body was clearly transferred when Oliver illegally reached (into) the vehicle and checked his pulse," Merritt said.
Dallas County officials have cited the ongoing investigation in declining to release the teen's autopsy report.
___
Associated Press writer Claudia Lauer contributed to this report.