Texas ice storm: Oncor brings in crews from out of town to help restore power in WilCo
WILLIAMSON COUNTY, Texas - In Williamson County, Oncor says nearly everyone whose power was knocked out by last week's ice storm should have their lights back on by Tuesday night. The utility customers who don't have their power restored, should check their equipment.
Line crews crisscrossed cities like Round Rock Monday, working to get power back on for those still in the dark. It's a welcome sight for Brian Taylor on Lime Rock Drive who has been without power since Wednesday.
"It was definitely cold," said Taylor. "We have a fireplace, thank goodness. And we actually came out here and started cutting up into the wood that had fallen. And we're using it in our fireplace to help us warm up."
Taylor says he actually hasn't been frustrated by how long restoration has taken, given the sheer volume of downed limbs, trees and power lines.
"We had power lines down in my backyard and my front yard. They cut off all the power lines, and they told me about it too, so I could move the power lines away from the debris," said Taylor.
RELATED COVERAGE:
Oncor has brought in hundreds of crews from out of town, and out of state. FOX 7 encountered a crew from Alabama late Monday, helping with new outages that popped up due to wind gusts, along with the outages from last week's storm.
"These have been very complex outages. In many cases there are multiple steps of repair that have to go into getting access to where the damage is, clearing debris, performing vegetation work, and then they can actually get started on the repairs," said Oncor Communications Manager Kerri Dunn.
In many cases, crews have had to restore outages one house at a time, working 16-hour days around the clock.
Oncor says if you're still without power in Williamson County, the problem could be damage to your equipment. The utility released a graphic showing that equipment such as the weatherhead, conduit and meter base, though not the meter itself, is the customer's responsibility.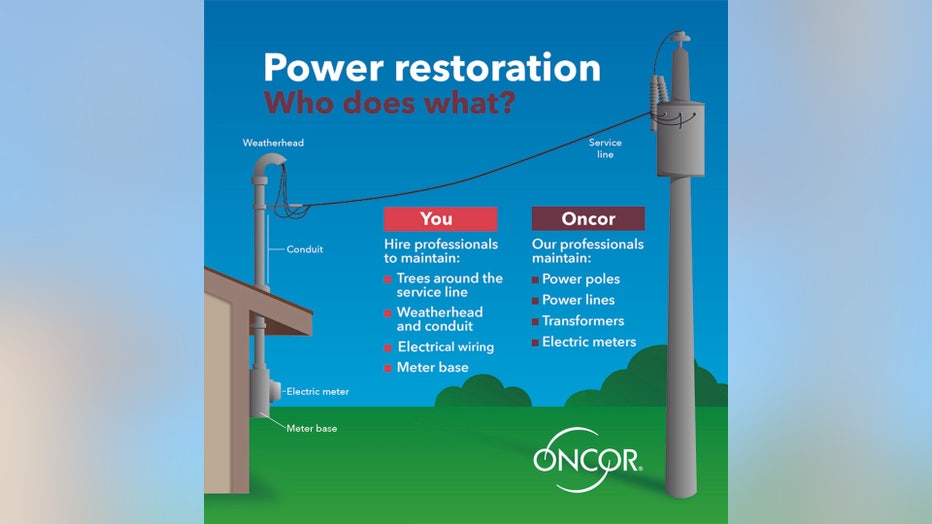 "It may be likely that that customer would have to work with an electrician to get those repairs made before we can safely connect them," said Dunn.
Lucky for Taylor, his equipment was okay, so crews got to work for about 12 hours on Sunday, before returning Monday to finish the job. As of Monday night, his power has been restored.
If you're still without power, Oncor encourages you to call them at 1-888-313-6862.
For more information from Oncor on what to do if you are still without power, click here.